We enjoyed making Washi in Japanese traditional way.
We went enjoyed watching a live Sumo wresling matches!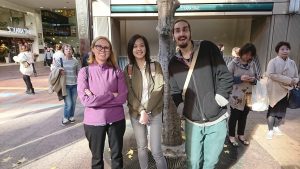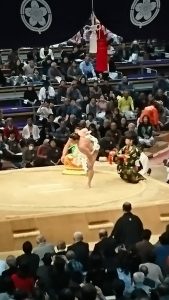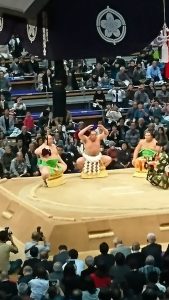 "I've never seen a professional Sumo wrestler in person, let alone so many of them live in action. During the match, I was surprised that there are so many rituals that the wrestlers have to perform prior to the actual wrestling. It was also interesting to note that not all professional Sumo wrestlers are Japanese, we spotted a few western foreigners competing.
Overall it was a fantastic activity, in fact, one of my favourite so far!"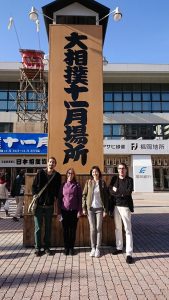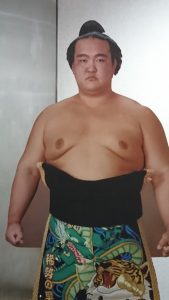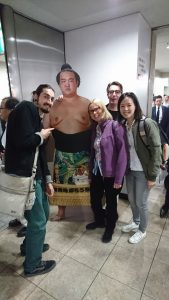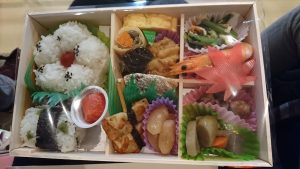 Continued from the last issue about going Kumamoto.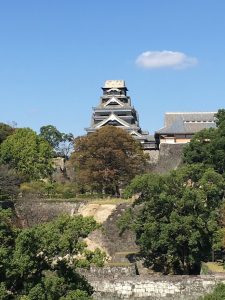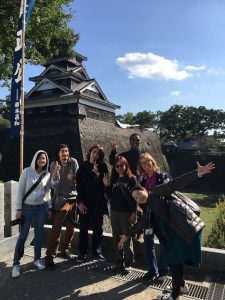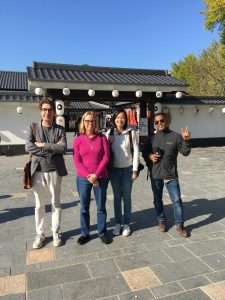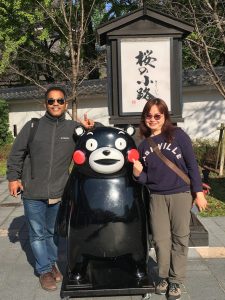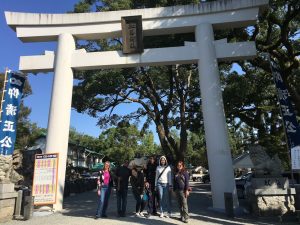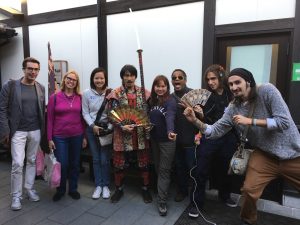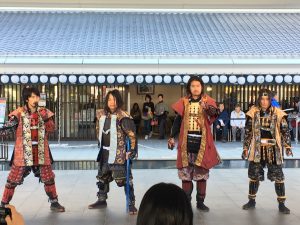 Here are the comments from our students;
"Although Kumamoto Castle is still in a damaged state, it looks grand.
Hoping that Kumamoto Prefecture and Kumamoto Castle are rebuilding in a smooth process after the earthquake.
熊本がんばって!"
"We had a traditional lunch at a washoku restaurant with spectacular views of Kumamoto Castle. Then a visit to the castle itself , but only from the outside as it has been damaged in the recent earthquake. Another unexpected delight was a visit to an edo style shopping area where we saw a samurai show and spoke with the young performers afterwards. This activity was also a great opportunity to get to know my fellow students ーit felt like travelling with a group of friends!"
We went to Kumamoto where there was a huge earthquake happened in 14 April.
Photos here are the first part of the excursion. We visited a tample called Rengein Tanjoji on the way to Kumamoto.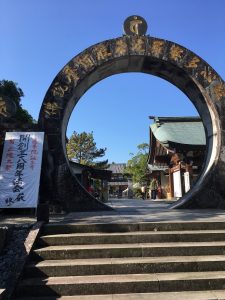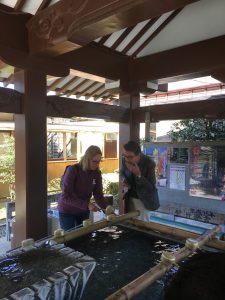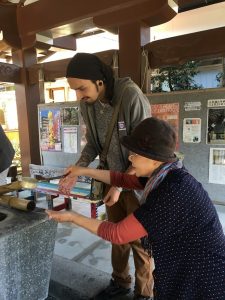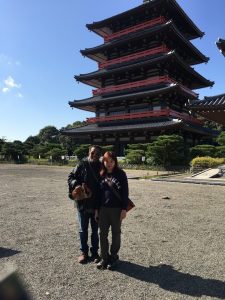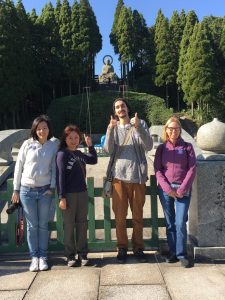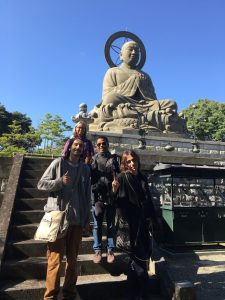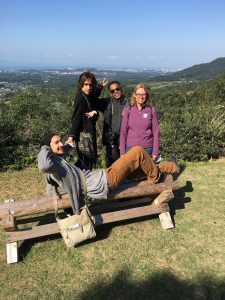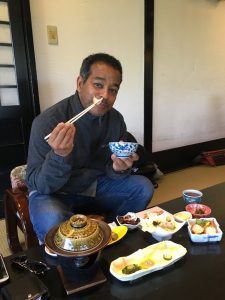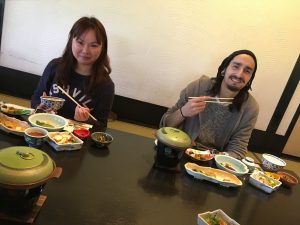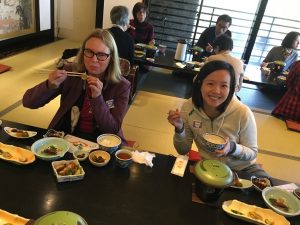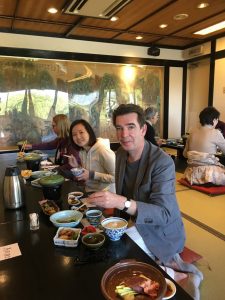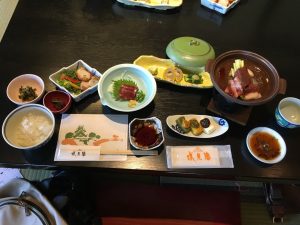 These are the comments from our students about this temple;
"This place is well worth another visit to experience its tranquillity, beauty and photogenic structures once more. A circular-shaped stone gate greeted us when we entered the holy ground, and straight after we were mesmerised by a giant bell. There was also a beautiful pagoda there. Another spectacular sight at the temple is the big Buddha statue. We walked past the statue and down a beautiful path to see a marvellous view from the hilltop.
The lunch was great and I tried the local speciality food – horse meat. I've never had it before, so I wasn't sure what to expect. The texture and taste is kind of similar to beef. Anyway it was one of the most delicious meal I've had in Japan so far."
"We visited a tranquil Buddhist temple with lovely gardens and views over the city. Then a traditional lunch at a washoku restaurant with spectacular views of Kumamoto Castle."
We will update the rest of the trip in the next issue.
We visited one of the traditional house and the garden in Fukuoka area.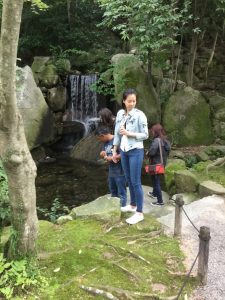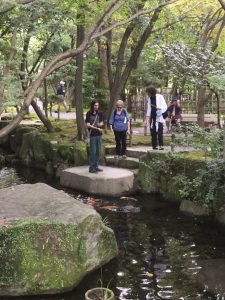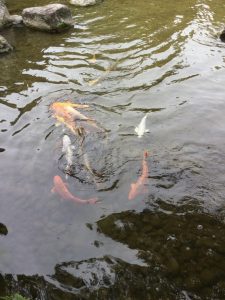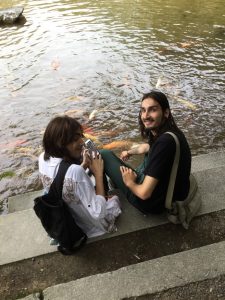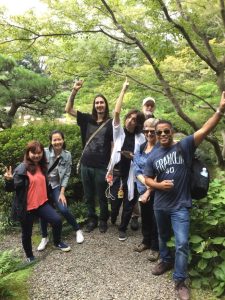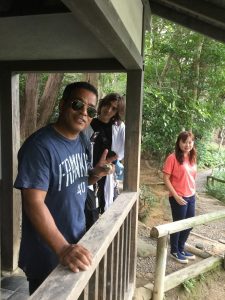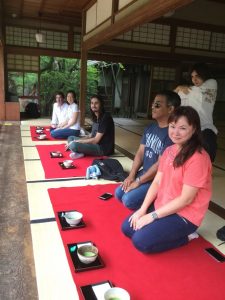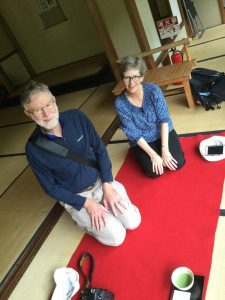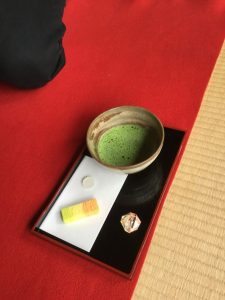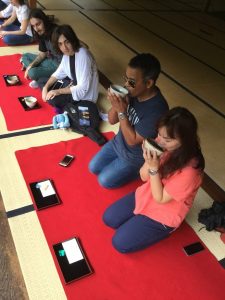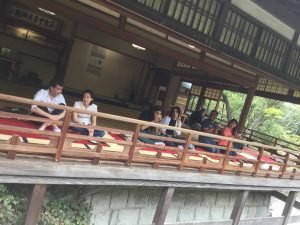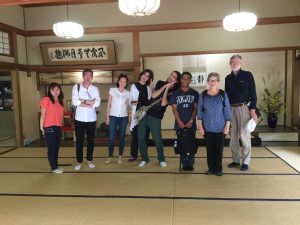 There are some comments form them;
"There is a large pond along the walking path, where it is delightful to watch and feed the Koi fishes. After that, we are being served with Wagashi and a bowl of matcha green tea in the Ohiroma Hall. Facing a great pond view of a peaceful garden, I was enjoying the Japanese traditional lifestyle."
"Despite its smaller size, the park is a beautiful public asset offering its visitors respite from the daily pressures of city life.
The trees, mosses, stone lanterns, bridges, water features, koi, plants and buildings combine sympathetically with each other to create an atmosphere of serenity and offer an opportunity for sitting in quiet contemplation.
Towards the end of our visit we were each served a matcha and wagashi set, consisting of a bowl of matcha green tea and Japanese dried confectionery. This was a most welcome refreshment and gave us the opportunity to look out over the lake and gardens from the tatami matted Ohiroma Hall, which is constructed in the Shoinzukuri style reflecting the formal lifestyle of samurai.
A most enjoyable activity!"
"We spent some time walking around this beautiful garden, admiring the moss gardens and ancient trees and feeding the huge koi carp in the central pond. Following our walk we sat in the Ohiroma Hall (a 17.5 tatami mats room) where we could admire the view over the lake while enjoying matcha and sweets."
We visited a Food Sample factory and our students tried to make their own samples.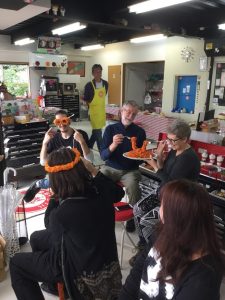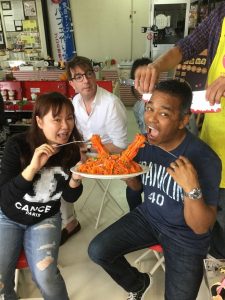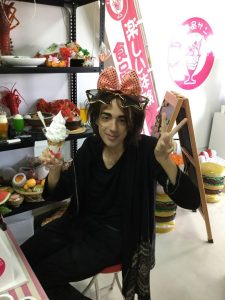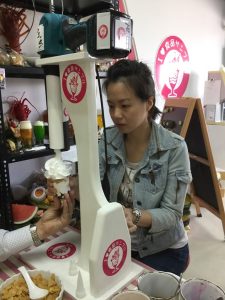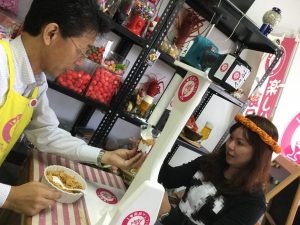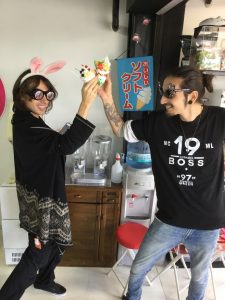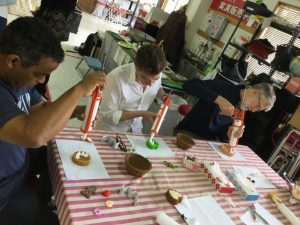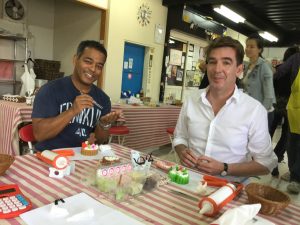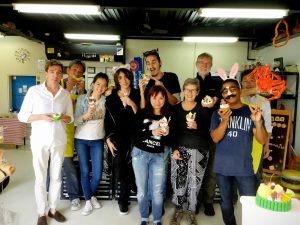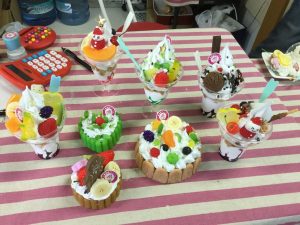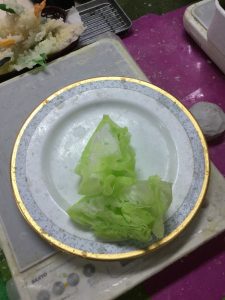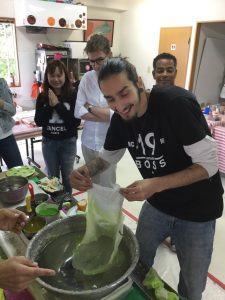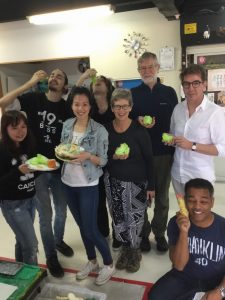 Comments from our students;
"On arrival we were shown samples of work produced by the company, which range from tiny fruit segments to whole life-size replicas of various seafoods, and an extensive range of meals created from the various ingredients.
We were then given the opportunity to decide whether to make a sample parfait or cookie-cake. Once the decisions were made, we selected the various ingredients and set to work making our creations under the expert guidance of the Sampuru Riki staff. Everyone enjoyed putting their creative talents into action and some fine products were created.
The staff then gave a demonstration of making whole lettuce, tempura and a breakfast set using hot wax. The results were truly spectacular.
It was a most enjoyable and educational experience."
" I made a chocolate ice-cream parfait decorated with everything in chocolate. It was amazing to see how tempura and lettuce can be made using wax."
"We can make our own cake and parfait, this is interesting!
これは パフェ作りに おもしろいです。
We cannot imagine how the craftsman make an assorted tempura plate looking so tasty and the process of making a fake lettuce is really amazing and amusing!
I enjoyed the activity."
Here is another comment from our school about the Izakaya party,
"The room for the party held two long low tables, and we sat on cushions on tatami mats, fortunately with our legs accommodated in a sunken area below the tables – good for people with long legs! The two tables separated the smokers from the non-smokers. This is very different from Australia, where smoking is not allowed in restaurants or any enclosed spaces.
Drinks were ordered – ranging from beer and shochu to soft drinks and iced tea. Each person ordered something from the menu, and these and other extra dishes were shared amongst all at the table. The food was plentiful and delicious, and included sashimi, sushi, omelette, salads, tempura, pickles, yakitori and more.
As more and more beer and shochu were consumed, tongues loosened and the conversations became lively and interesting. Our teachers encouraged us to speak in Japanese, so we were able to put into practice everything we had been learning in lessons.
The Izakaya party was great fun."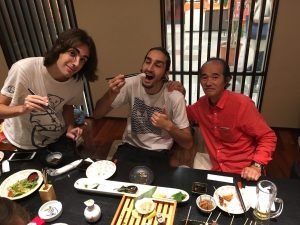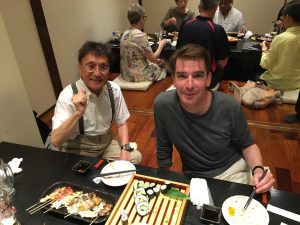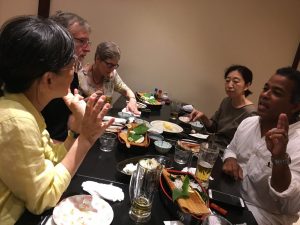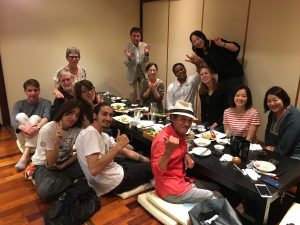 We went to an Izakaya, which is lika a pub in English, and enjoyed the drinks and food there.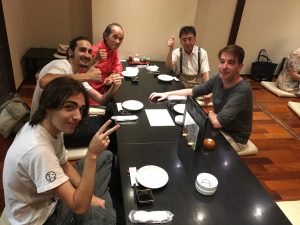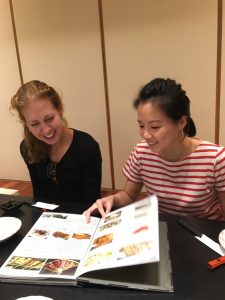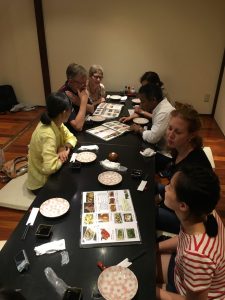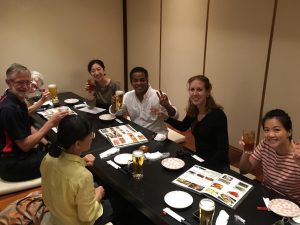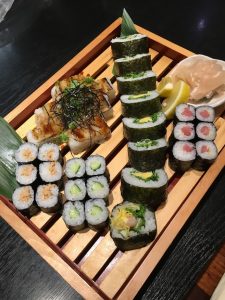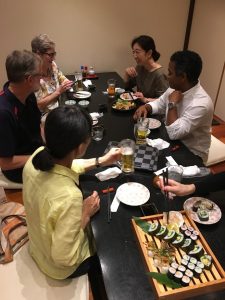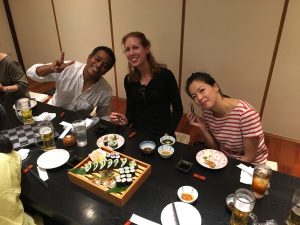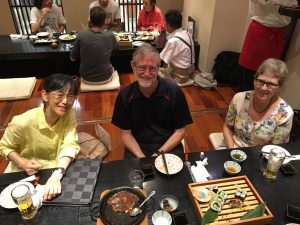 We got a comment from our student.
"It was an opportunity for all to relax and get to know each other a little better outside of the formal college environment.
A range of delicious traditional Japanese foods were served including sashimi, yaki niku, yaki tori, grilled leeks, tempura, omelettes and a range of pickled vegetable, fish and seaweed accompaniments.
All washed down with each individual's personal choice of beer, shochu, soft drinks or teas.
This event was enjoyed by all, there being much lively discussion and the students having an opportunity to gain some much needed practice in our rudimentary Japanese language skills.
Thanks to the college staff and NILS for hosting this most worthwhile event."
Our students experienced typical flower arrangement this time.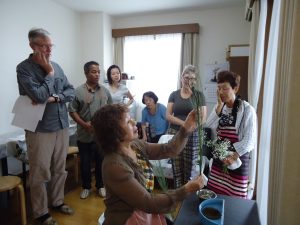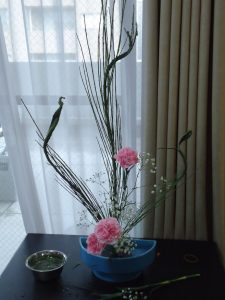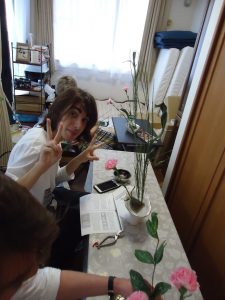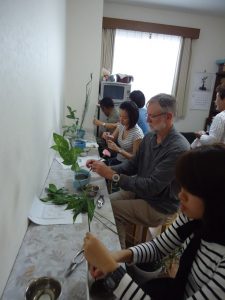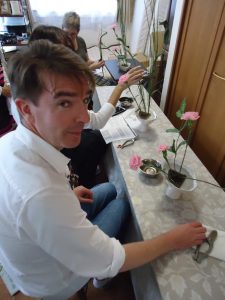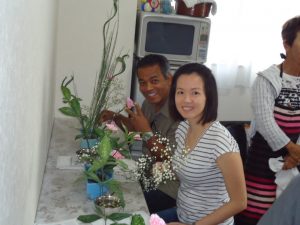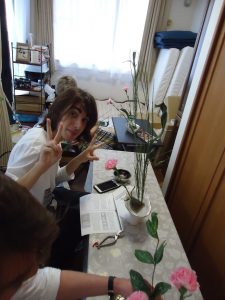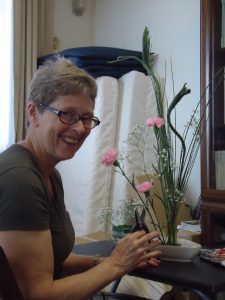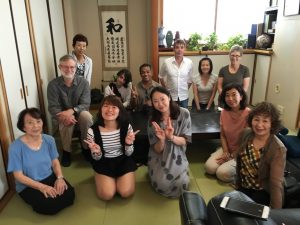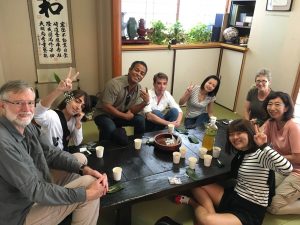 Here are comments from them.
"I found the ikebana class we attended to be most illuminating.
This ancient art form of floral arrangement has been practiced for many centuries, the oldest school of Ikebono dating from the 6th century B.C.
There are various styles of ikebana practiced today. We were introduced to the basic "rising" and "reclining" forms. These were demonstrated by our ikebana teacher and we were then given the opportunity to try our hands at one or other of those forms.
It is a contemplative art form intended to display the beauty of its component botanical materials. Selection of individual elements for use in the display is critical and careful consideration must be given to selection and preparation of the subject, object and filler pieces, and to how they will be arranged.
There are certain rules to follow regarding container size and the size of the plant elements (which are in strict proportions to each other) and the angles at which they are assembled.
On completion of our arrangements each student's effort was appraised by the teacher and we were shown how our efforts could be improved.
It was a most enjoyable experience."
"They showed us how Japanese flower arranging worked, the art and… The math? Apparently there's a lot to flower arranging, angels and tilt and degrees , subjects and objects and secondaries , even without the language barrier this was complicated .
She sat and started cutting and measuring different plants and flowers, angling them at just the right spot. The center flower sitting perfectly at 20degrees forwards, the secondary plants 20 degrees to either side , eat plants length changing in perfect increments .
After her demonstration we got to take our own hand at it. It was extremely fun and artistic, trying to follow the patterns and angles while still putting your artistic touch on it was very interesting. After you where done she would assess you. For me unfortunately, mine was so bad she ripped all the plants from the base and showed me how it was done, everyone laughed including myself. I took a couple of the flowers and put them on my head for the rest of the day, I got many compliments and laughs!
After the flower arranging we had tea time , where the old ladies gave us roasted tea, Mochi, and something resembling fortune cookies. They talked to us and asked us about where we where all from and what we all did, in Japanese of course.
It was an extremely fun experience and I would never have thought to try it if it where not for the school!"
We visited a Hakata Doll shop in Hakata this time. Hakata dolls are quite famous in Japan. They have a typical shape and colouring. If you have a close look at each doll, you can find the details are very professional.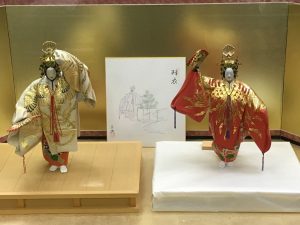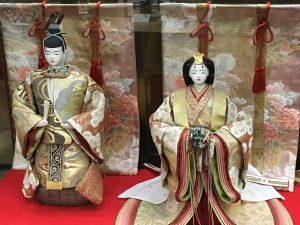 It looks very difficult to make thiese dolls for foreigners, but they have an event that anybody can join to the doll painting!
When you join it, you learn how to paint dolls in a lecture.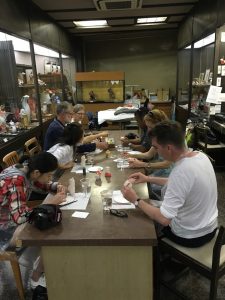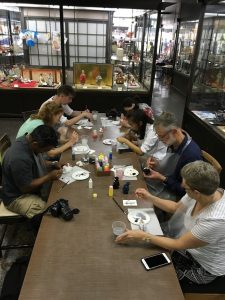 You have a choice of different kinds of doll. then, you are allowed to paint your doll. Our students were very excited at the beginning, but their eyes were changed when they start painting with a brush!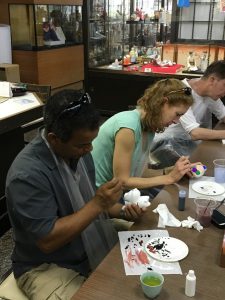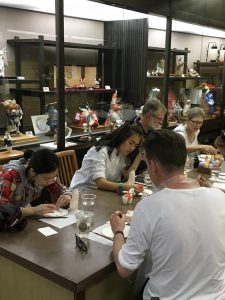 Finally, they made it and we put their own dolls together with a paper wall background.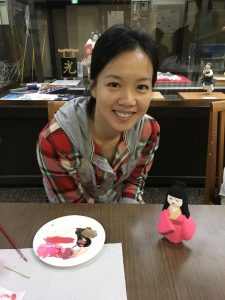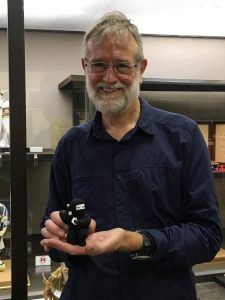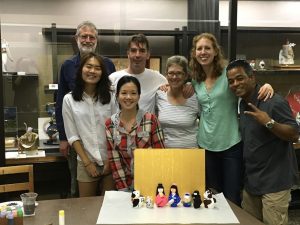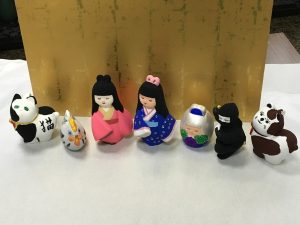 Here are some comments from our students;
"We caught the train to Tenjin, then walked to Hakata Ningyo ceramics painting studio. On the way we practised speaking Japanese and also visited the Suikyo Shrine, where we learned various customs and enjoyed the tranquility of the setting, a step aside from the busy city. The ceramics painting was enjoyed by all and after only an hour we were each able to take home a completed piece of art. The activity finished with a delicious lunch at a sushi restaurant before some went off shopping and others returned to Ohashi. The activity was both useful and enjoyable."
"All members of the group enjoyed the cultural experience of Japanese doll painting, and each person was able to complete a piece to take home in the allotted time of 1 hour. The results for a first effort were very pleasing."
"The train ride and walk to the store was a learning experience because we must read the signs in Japanese in order to go from Ohashi station to Tenjin Station. Then, as we walked from the station to the Doll Store, I read the signs that were in in Hiragana and Katakana.
Once in the doll store we got to choose which doll we wanted to paint. I chose a cat and my wife chose a small girl. It was fun sitting and concentrating on painting. My cat, in the end, was brown and white. Afterwards, the staff at the store gave us macha tea and then they stood around and helped us if we wanted to purchase anything, so I practiced asking how much each item cost. "