Study abroad at one of the best Japanese language schools in Japan – NILS.
Learn the Japanese language in our intensive program while immersed in the local culture.
Objective
The Higher Education University Course 24-months is designed for advancement to higher educational institutions in Japan such as colleges, universities, and vocational schools. In comparison with the 18-month program, you will be able to apply for higher-level colleges and universities in Japan.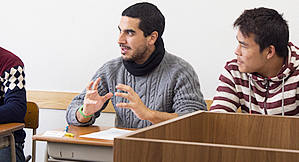 After completing your study in this program, you will be able to:
Talk about various topics and effectively express your personal opinions in written and spoken language
Read and analyze graphs and charts written in Japanese
Understand academic articles of greater length
Increase your vocabulary and the Kanji equivalent to the JLPT N1-2 level
Write compositions on a particular topic
Improve your reading, listening, and grammar skills for the JLPT and the EJU, etc.
You will improve your ability to communicate in Japanese with fluency and accuracy. You will also improve your language skills to the academic level necessary for study at Japanese colleges and universities.
Who is Eligible?
Student visa
Student with a working holiday visa
Other visas/status (Permanent residency, spouse visa, working visa etc)
The program includes Japanese cultural activities.
School Activity
The Star Festival ②
NILS full-time program held the star festival called Tanabata. Students had a go
The Star Festival ①
NILS had a tanabata festival! Students enjoyed making various wishes –
graduation trip
NILS had a graduation trip for Dazaifu tenmangu shrine. Students learned the his
Higher Education University Course 21-Months / 24-months
From Beginner to High-Advanced Level
Enrollment

21 Months : July

24 Months : April

Hours of Study
20 lessons per week (Total: 1200- 1520 lessons) *Each lesson is 45 minutes
Number of students
10-15 students per class
Details

[Vocabulary]

Learn correct pronunciation and intonation.
Read and write Hiragana and Katakana.
Learn 6,000 words and 2,000 kanji.
Learn words and phrases used in daily conversation.
Learn academic Japanese skills for the university and college.

[Listening Skills]

You will be able to listen to conversation by native Japanese speakers.
You will improve your listening skills by viewing news programs and movies.
Teachers speak Japanese at normal speed.
Lots of class materials for EJU and JLPT.

[Speaking Skills]

You will be able to talk about a certain topic after a year of study.
Only Japanese is used within the walls of the school.
Original and unique teaching methods are employed.
You will be able to speak Japanese in daily life level within three months.
Additional study enables students to talk with one another on all topics.

[Reading and Writing Skills]

Understand from the beginning how easy reading can be.
You will be able to write original stories by the completion of your course.
You will be able to write reports and articles by the completion of your course.

[Others]

Aim for JLPT Level N1-N2.
Enjoy lots of school activities, and lots of international cultural exchanges.
Speech Contest held each year.
Class Schedule
Morning
Afternoon
Monday
Tuesday
Wednesday
Thursday
Friday
8:40 - 9:30
13:00 - 13:50
HomeRoom

Main Text

9:35 - 10:20
13:55 - 14:40

Test

10:35 - 11:20
14:50 - 15:35

Grammar

Reading

Vocabulary

Listening

Current Topics

11:25 - 12:10
15:40 - 16:25
Enrollment Schedule and Program Fee
Program fee Discount Campaign!!
21-Months Program
Session
Starting
date
Ending
date
Application
due date
Program fee and payment due
2021
July
July 20,
2021
Mar 10,
2023
Feb 19,
2021

$13,050

(1st year : $8,050 + 2nd year : $5,000)
Prerequisite for 15-Month program :
JLPT Certificate N5 or NILS Level placement test 70% or higher. (writing test and speaking test)
24-Months Program
Session
Starting
date
Ending
date
Application
due date
Program fee and payment due
2021
April
---
---
---

2020 Admissions: Ended
Total price includes registration fee, visa processing fee, class tuition fee and textbooks.
Health insurance fee, accommodations fee and your travel tickets are not included
Application Process
Required documents :
Bank statement ($10,000-$13,000)
Copy of your diploma (Highest degree completed)
5 photos, each 4×3 centimeters

Please send us all required documents and pay your program fee.

The school will prepare an application form for your Certificate of Eligibility and submit it to Japan Immigration Bureau

The school will send your original certificate to your home-address.

You will apply for a student visa at the nearest Japan Embassy in your country.

Travel to Japan and start your program
Download Application Forms
Download forms and fill them out completely.