NILS Special Activity
Hiroshima Tour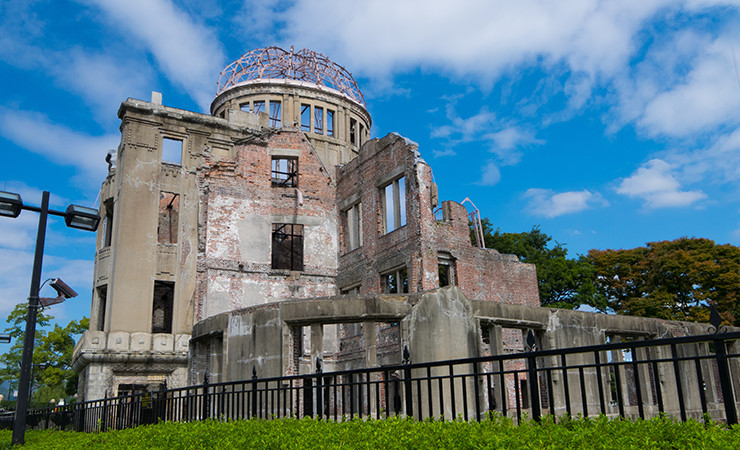 NILS students can sign up for Hiroshima tour with a low cost!
The tour will be held on every two months.
Please contact us more information.
CONTACT US
Hiroshima – A Beautiful City Rich in Cultural History
Situated in the south-western part of Honshu Island, Hiroshima is very rich in the natural beauty of the Inland Sea and the Chugoku Mountains, with mountains, sea, rivers, valleys, plains, basins that symbolise Japan's scenery and landscape.
Memorial of a Building Destroyed by the Atomic Bomb
Unfortunately, one of the two atomic bombs that were used on Japan landed on Hiroshima during World War Ⅱ and totally destroyed the city, leaving it into ruins. The Genbaku Dome (A-Bomb Dome) was the one and only structure left in the area when it happened on 6 August 1945. The building was not destroyed completely because the blast of the atomic bomb, which was vaporized in the air, prevented it from totally collapsing.
One of the Must-See Places in Hiroshima
Itsukushima Shrine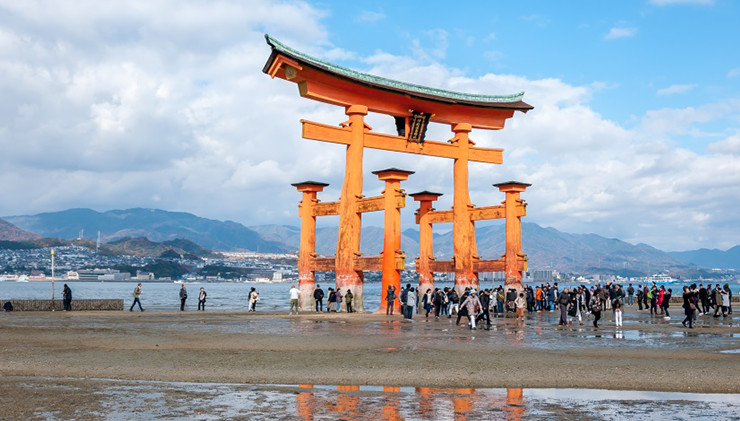 The Genbaku Dome is not the only major attraction that we will cover during the visit to Hiroshima. We will take you to as many key spots in Hiroshima and that includes Miyajima's Itsukushima Shrine. Miyajima is an island located in Hiroshima prefecture and it is mostly renowned for its iconic "floating" torii gate. The shrine and its torii gate are unique for being built over water, which makes it seem as though the gate is floating in the sea during high tide. During low tide, however, the water drains out the bay. Therefore, visitors can take this chance to directly walk out and see the gate from up close.
Try Hiroshima-yaki,
A Healthy Crepe Loved by Local People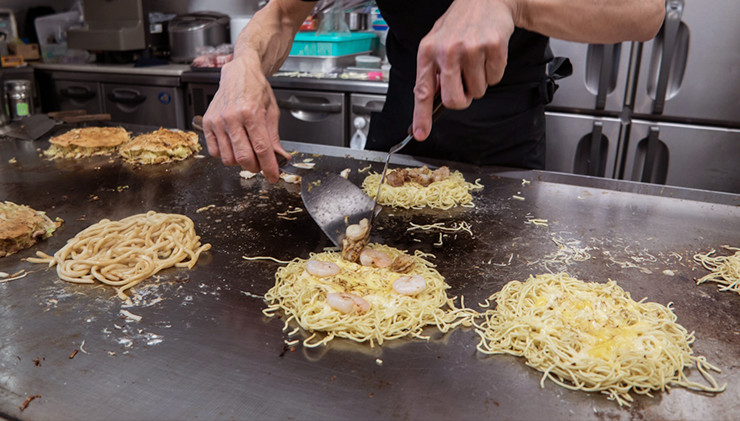 Apart from all these historical and cultural visits, the students also get to try Hiroshima cuisine, such as okonomiyaki. Okonomiyaki is a well-known traditional Japanese food but Hiroshima has its own version of Okonomiyaki, which they called it "Hiroshima-yaki" or "Hiroshima-style okonomiyaki".

Generally, the ingredients in okonomiyaki are mixed. On the other hand, in Hiroshima, the ingredients are layered rather than mixed. The layers are typically batter, cabbage, pork, and optional items such as squid, octopus, and cheese. Sometimes noodles such as yakisoba and udon are also used as a topping with fried egg and a generous amount of okonomiyaki sauce. Hiroshima-yaki is a really delectable and mouth-watering food which is a must-try when visiting Hiroshima.
Student Experience
Amy from Great Britan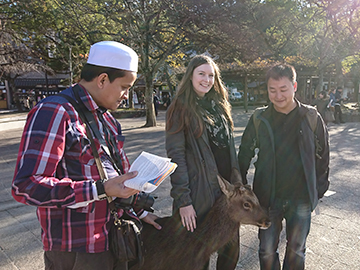 A few weeks ago, I had the amazing opportunity to go to Hiroshima and visit the Peace Memorial Museum with my fellow classmates and teachers at NILS. Before even coming to Japan, this is somewhere I wanted to visit.
Starting our trip
We started our day early, leaving Fukuoka on the shinkansen (bullet train), which took around 2 hours until we reached Hiroshima. This was actually my first time riding a shinkansen, and it did not disappoint. The seats were extremely comfortable, as they were large, with plenty of leg room. I was pleasantly surprised how smooth the journey was, as I was expecting the train car to shake due to the high speed.
The Peace Memorial Museum
Once we arrived in Hiroshima, we took a short tram ride to get to the Peace Memorial Museum.
As soon as you arrive, the first thing your eyes are drawn to is the Peace Memorial.
Even though I have seen pictures of the Memorial before, until actually seeing it in person can you truly imagine the horrific destruction caused by the nuclear bomb.
The museum in a short walk from the Peace Memorial. On the way we came across Children's Peace Monument, decorated with hundreds, possibly thousands of colourful origami cranes and many peace massages written by children.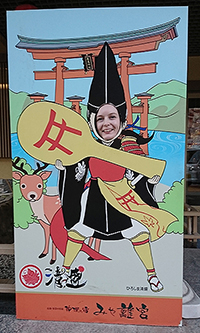 What I learned from the Peace Memorial Museum
After this, we went to the Peace Memorial Museum. I have previously learnt about the Hiroshima Bombing, however, seeing charred articles of clothing, many of which were young children's, hearing and reading stories of the immediate aftereffects of people's lives, and actually seeing the "shadow" of a victim, whose body vaporized instantly, permanently etched onto steps that were close to the epicentre, can you begin to fully understand the true horrors of nuclear weapons.
Delicious lunchi, Okonomiyaki!
We stopped for lunch after the Museum, and as we were in Hiroshima, what better to eat than Hiroshima style Okonomiyaki! (Which was delicious!) After lunch we took a ferry to Miyajima Island, which is said to be one of the most scenic spots in Japan! Which I can only agree with, the island is beautiful, with luscious trees covering the surrounding mountains. Before even arriving on the island, you can already see Itsukushima Shrine, which looks as though it's floating on water. On the island, deer are free to roam wherever they please. A word of warning, they will try to eat anything you're holding, especially paper! We learnt about the history of Itsukushima Shrine from our teacher, she also recommend trying the local speciality, age-momiji manjuu (fried momiji-manjuu), which I have to say, was delicious!
In all, I'm glad I had the chance to visit Hiroshima, even if it was only for the day. As well as thoroughly enjoying the day, it was also educational, and it was really eye-opening to visit the Peace Memorial Museum. If ever you get the opportunity, I highly recommend visiting Hiroshima, you won't be disappointed.
READ MORE
Jimmy from United States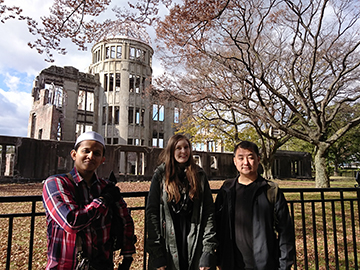 Starting our trip with Yamamoto Sensei
I went on a class to go to Hiroshima. Our guide for the day was Yamamoto Sensi.
Hiroshima is known as the place where the first atomic bomb was dropped. Hiroshima was one of the places I wanted to visit while I was in Japan. The only information I know about it is what I read in the history books. I wanted to know what happened there and what it has become today.
The first place we visited was the Hiroshima Peace Memorial Museum. This museum housed many items that were recovered after the bomb was dropped. It told the stories of the people there and the horrific effects of radiation from the bomb. I think this experience is important because it makes the event more personal than reading it off the pages of a history book.
What I saw and at the Museum
When you see items that were recovered such as a lunch box, a little girl's shoe, a burned kimono, etc, you realize that this happened to normal people;
people just like you and I. The stories behind each item gave a glimpse into what happened that day. Each fragment put together gives you a better understanding of what took place that day. Many of the stories were tragic such as that of the little girl named Sadako Sasaki. She was known as the girl set out to make one thousand origami cranes so she can make a wish.
That wish was because she was suffering from leukemia from her exposure to the radiation from the atomic bomb. Unfortunately, she died at the age of 12 to the effects of the atomic bomb. This experience has given me a much greater depth in my understanding on this historical event. It gives a much more human element to it than what I was able to glean off pages of a history book. Seeing the partially burned lunch box of a student, the ragged school uniform, the rusted tricycle, etc. makes what you read about real. It really is a humbling experience.
Miyajima is a beautiful place!
The next part of the trip involved a visit to Miyajima Island. We took a ferry to reach the island where we saw the Itsukushima Shrine. The Torii looks like it is floating in the sea when the tide comes up. On the Miyajima Island there are many other shrines to look at. There are many shops to buy food or gifts. There were even deer that you can pet as they will come up to people out of curiosity or to look for food.
Overall, this was an interesting and fun trip. Yamamoto Sensi was very informative in giving background information about Hiroshima and the sites we visited. Hiroshima is a very beautiful city. It definitely is a place you should visit if you have the chance.
READ MORE