We visited a Hakata Doll shop in Hakata this time. Hakata dolls are quite famous in Japan. They have a typical shape and colouring. If you have a close look at each doll, you can find the details are very professional.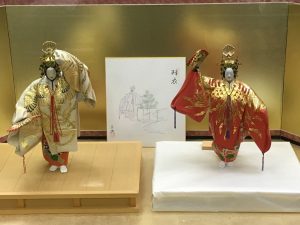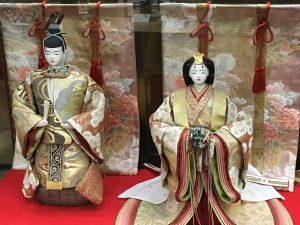 It looks very difficult to make thiese dolls for foreigners, but they have an event that anybody can join to the doll painting!
When you join it, you learn how to paint dolls in a lecture.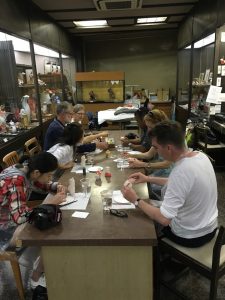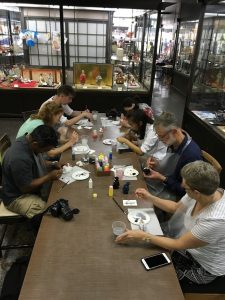 You have a choice of different kinds of doll. then, you are allowed to paint your doll. Our students were very excited at the beginning, but their eyes were changed when they start painting with a brush!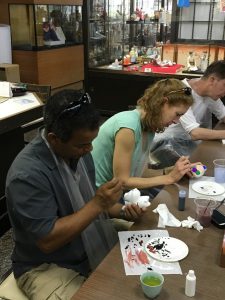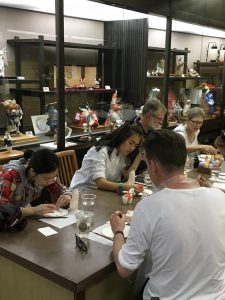 Finally, they made it and we put their own dolls together with a paper wall background.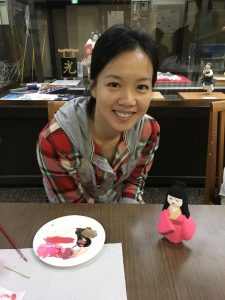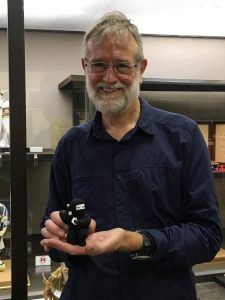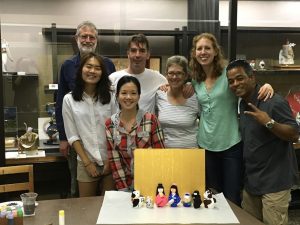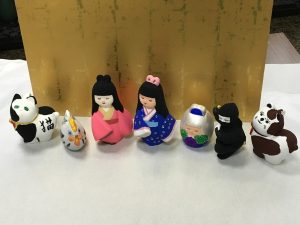 Here are some comments from our students;
"We caught the train to Tenjin, then walked to Hakata Ningyo ceramics painting studio. On the way we practised speaking Japanese and also visited the Suikyo Shrine, where we learned various customs and enjoyed the tranquility of the setting, a step aside from the busy city. The ceramics painting was enjoyed by all and after only an hour we were each able to take home a completed piece of art. The activity finished with a delicious lunch at a sushi restaurant before some went off shopping and others returned to Ohashi. The activity was both useful and enjoyable."
"All members of the group enjoyed the cultural experience of Japanese doll painting, and each person was able to complete a piece to take home in the allotted time of 1 hour. The results for a first effort were very pleasing."
"The train ride and walk to the store was a learning experience because we must read the signs in Japanese in order to go from Ohashi station to Tenjin Station. Then, as we walked from the station to the Doll Store, I read the signs that were in in Hiragana and Katakana.
Once in the doll store we got to choose which doll we wanted to paint. I chose a cat and my wife chose a small girl. It was fun sitting and concentrating on painting. My cat, in the end, was brown and white. Afterwards, the staff at the store gave us macha tea and then they stood around and helped us if we wanted to purchase anything, so I practiced asking how much each item cost. "