Our students experienced typical flower arrangement this time.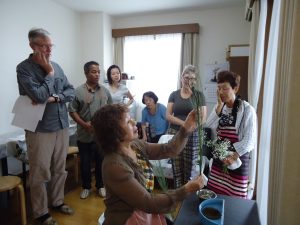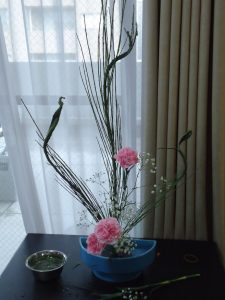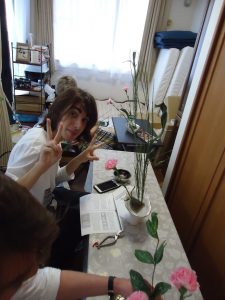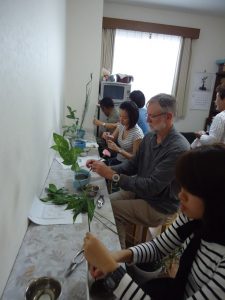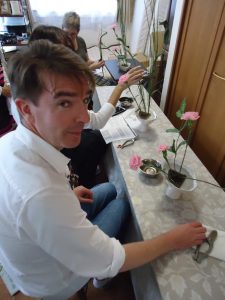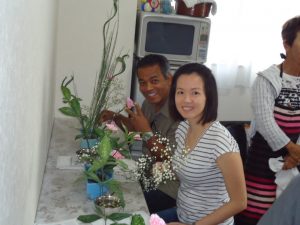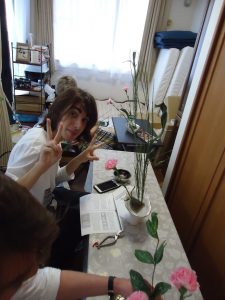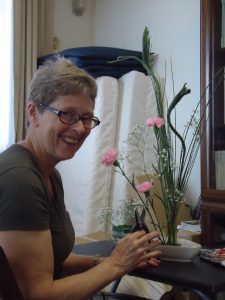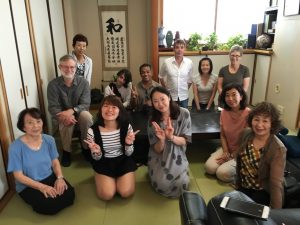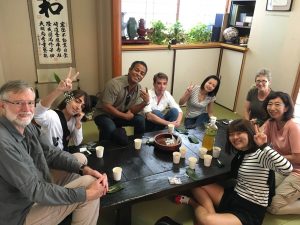 Here are comments from them.
"I found the ikebana class we attended to be most illuminating.
This ancient art form of floral arrangement has been practiced for many centuries, the oldest school of Ikebono dating from the 6th century B.C.
There are various styles of ikebana practiced today. We were introduced to the basic "rising" and "reclining" forms. These were demonstrated by our ikebana teacher and we were then given the opportunity to try our hands at one or other of those forms.
It is a contemplative art form intended to display the beauty of its component botanical materials. Selection of individual elements for use in the display is critical and careful consideration must be given to selection and preparation of the subject, object and filler pieces, and to how they will be arranged.
There are certain rules to follow regarding container size and the size of the plant elements (which are in strict proportions to each other) and the angles at which they are assembled.
On completion of our arrangements each student's effort was appraised by the teacher and we were shown how our efforts could be improved.
It was a most enjoyable experience."
"They showed us how Japanese flower arranging worked, the art and… The math? Apparently there's a lot to flower arranging, angels and tilt and degrees , subjects and objects and secondaries , even without the language barrier this was complicated .
She sat and started cutting and measuring different plants and flowers, angling them at just the right spot. The center flower sitting perfectly at 20degrees forwards, the secondary plants 20 degrees to either side , eat plants length changing in perfect increments .
After her demonstration we got to take our own hand at it. It was extremely fun and artistic, trying to follow the patterns and angles while still putting your artistic touch on it was very interesting. After you where done she would assess you. For me unfortunately, mine was so bad she ripped all the plants from the base and showed me how it was done, everyone laughed including myself. I took a couple of the flowers and put them on my head for the rest of the day, I got many compliments and laughs!
After the flower arranging we had tea time , where the old ladies gave us roasted tea, Mochi, and something resembling fortune cookies. They talked to us and asked us about where we where all from and what we all did, in Japanese of course.
It was an extremely fun experience and I would never have thought to try it if it where not for the school!"