Our students enjoyed the shrine area. Some asked the staff of the shrine to write the memory on a book with brush. He took some photos while the staff was writing.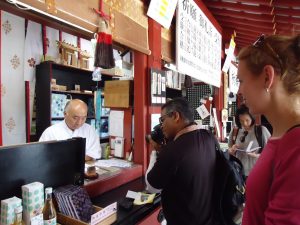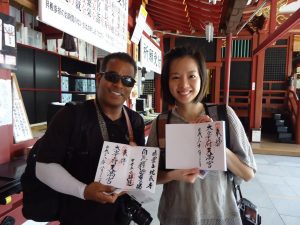 There is a pond with the pedestrian bridge over it. It was a hot summer day, but they looked happy to be over the water.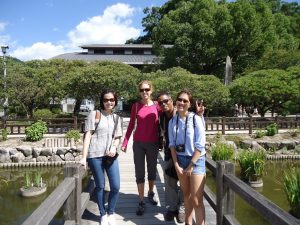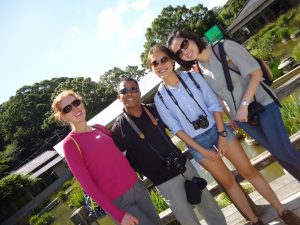 There is another atraction close to the shrine. You can go to the Kyushu Kokuritsu Hakubutsukan meaning Kyushu National Museum through a tunnel from the shrine. There are a lot of historical things you can see. At the entrance hall, huge decorated portable shrine called Yamakasa is displayed. A lot of different designed Yamakasa are carried at a festival in July.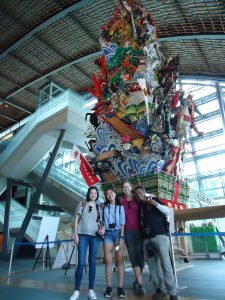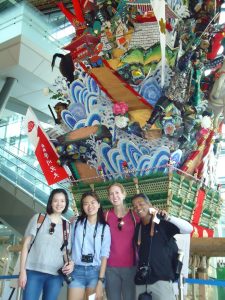 You can visit these historical enjoyable places in Dazaifu.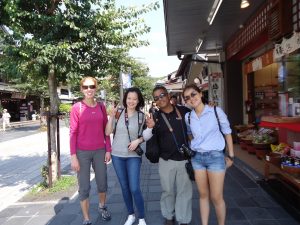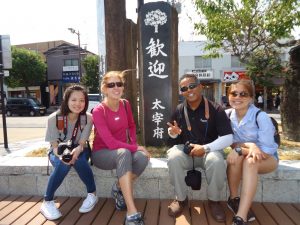 Here is another comment from our student;
"Thank you for organising the trip to Dazaifu. I enjoyed going to Tenmangu shrine and visiting Kyushu National museum. We also got to try the famous umegae mochi (typical ricecake in Dazaifu) and matcha (Green tea) – it was delicious!
It was a great outing ?"