We visited a Japanese traditional house called 'Yusen-tei.' This is a pure old house with a huge Japanese style garden. At the entrance gate, a couple with traditional clothes welcomed us. The pond is also big and there are some Koi carps swimming in the water. You are allowed to feed them.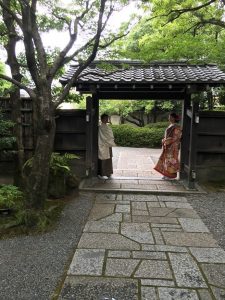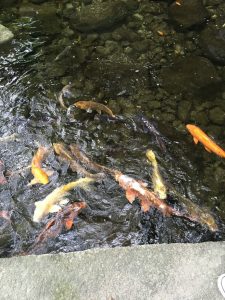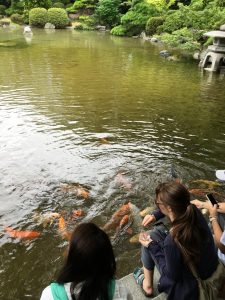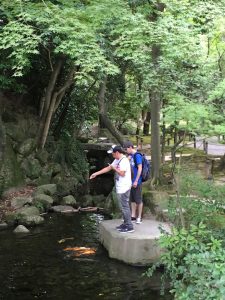 You are served typical Japanese green tea and you can learn how to drink in a formal way. This is called 'Sa-doh'. 'sa'means tea and 'doh' means the way which is also used in some Japanese sports such as 'Ju-doh' and 'Ken-doh'. So the way of specialist in each category. You have an opportunity to experience the way of traditional tea drink in formal style.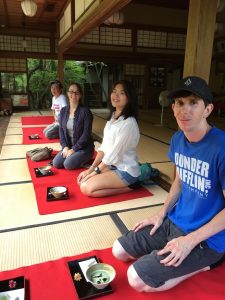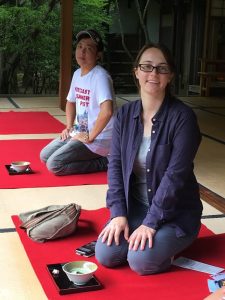 The house is extended over the pond so that you can enjoy watching the gerden and the pond together as if you are in the air.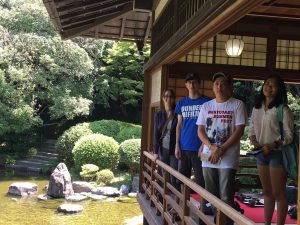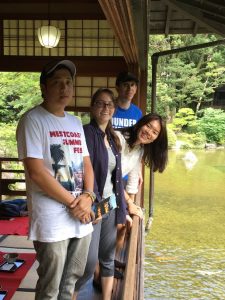 Comments from our students:
"The Japanese Beautiful Garden excursion showed me a peaceful and serene side of Fukuoka. Our teacher got us 2 packs of fish food to feed the Koi fishes in the ponds in the park. Then, we had a traditional tea experience where we had to sit in a traditional Japanese way and enjoyed green tea with sweets."
"The garden that we visited was truly a beautiful place. After seeing the bustling parts of Fukuoka it was nice to see such a quiet place filled with nature. I especially enjoyed drinking tea with everyone and looking out over the koi pond."