Summer is the season of festivals in Japan. One of the big events is the firework shows. You can enjoy watching (or feeling) ones here and there. We joined the one at Ohori Park in Fukuoka City. Before we visit the park, our students changed their clothes to Japanese traditional ones called, "Yukata" which is especially used in summer and much lighter than the "Kimono". Girls also can change their hair-style in Japanese one.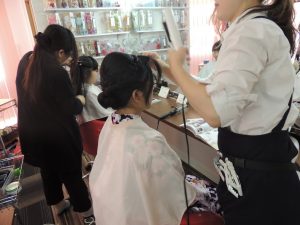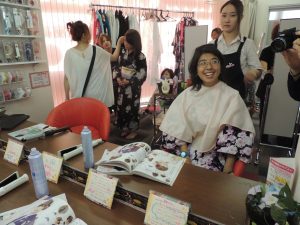 They are getting to be ready to go out to the city!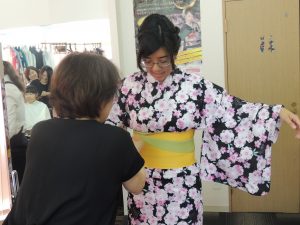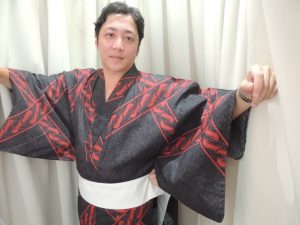 They were very happy to wear Yukata, so whereever we go, we took some photos such as alongside the road, at a train station, and in the undergraound shopping area.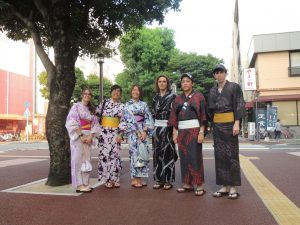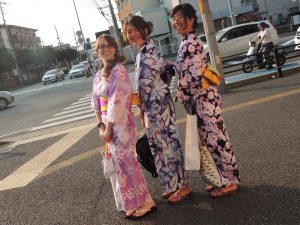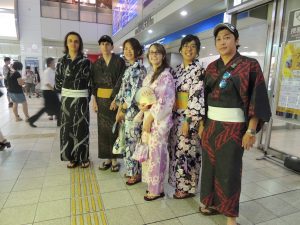 When the evening was coming, there were a lot of stores mainly selling typical festival food.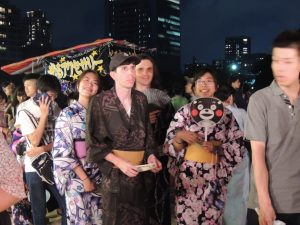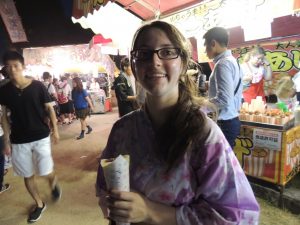 Finally, the fireworks opened their flowers in the dark sky.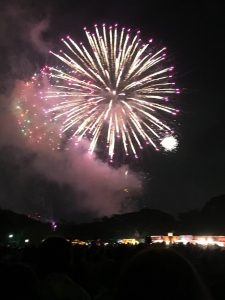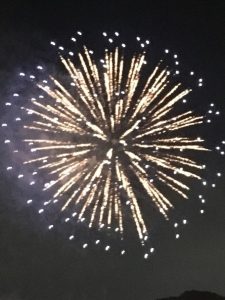 Here are comments from other students;
"You cannot say you've been to Japan in summer if you never been to a fireworks display in Japan. It was such a great experience: you get to enjoy Japanese street foods while watching spectacularly beautiful fireworks. Can summer ever be better than that?? The fireworks display at Oohori park lasted an entire hour and a half. Every part of the show was grand and exciting even though the show was really long. The fireworks are so big that you think they would actually hit you.
It was especially fun to attend the fireworks show dressed in yukata because you really feel like you're getting the full experience. You shouldn't be embarrassed because a lot of other people are also dressed in yukata. Furthermore, it's a great photo-taking opportunity because the yukatas definitely make you 100 times more good-looking than you already are!
Although it was really hot and the subway was really crowded, I would definitely attend the fireworks display every year if I happen to be in Fukuoka in August!!"
"The fireworks was my highlight for the week. I havent seen a fireworks display like that in such a long time. The wearing of the Yukawa was a first for me and it was a great experience. It was an unforgettable experience. I will carry this experience with me for the rest of my life. I would like to thank NILS staff and all the sensei for making this possible. What a wonderful experience."