Our group visited two places this time. Here are the information of them and comments from our students.
*Yusentei*
Yusentei is a famous Japanese garden in Fukuoka. The name suggests a place for meeting with friends. Guests can choose from 3 types of refreshment, green tea with traditional japanese snack, green tea with dorayaki and coffee with kit kat. I highly recommend the traditional japanese snack with green tea for a truly authentic experience.
The refreshment is served in the hall where guests can view the beautiful garden and pond while sipping their tea. The sound of a nearby waterfall could also be heard in the hall. It is a serene place for reflecting while savouring the traditional Japanese snack. After the refreshment, we took a walk around the garden and took many pictures with the beautiful landscape in the background. Stone lanterns, waterfalls, seasonal flowers and green trees can be seen in this garden. It was a relaxing activity and somehow I left with a newfound sense of peace.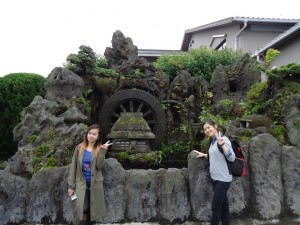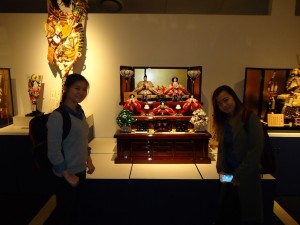 *Washi Workshop*
It was a long travel to Yame-shi for this activity. We arrived at a traditional craft museum where the workshop was carried out. Participants were given a choice to select various types of paper products they wish to create, from bear-shaped fans to name cards. After selection, participants were allowed to choose various dried flowers and leaves for their creation. The paper slurry for making paper was prepared by the staff beforehand, participants just need to pour the slurry into their product mould and decorate it.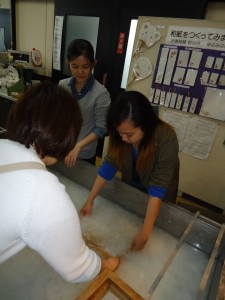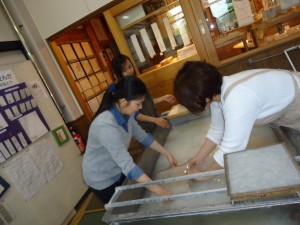 As I arrived in Fukuoka in Spring, I decided that Spring will be the theme for my creation. I decided to make a paper fan with purple and pink flowers and accentuate them with ajisai and green leaves. The staff also gave suggestions on how to place the decorations for better visual experience. After decoration, the staff helped to apply a layer of glue to the surface to seal in the decorations. It took about 40 minutes for the paper creation to dry. During which, we visited the traditional craft museum and saw many traditional crafts such as straw weaving, stone sculptures and wooden altars. The crafts were beautiful and I wished I was able to make them too. Overall it was an interesting experience that would be hard to chance upon for tourist.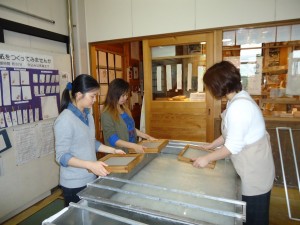 We are very happy that our students enjoyed taking part in these places. The great thing is that anybody can have an experience the Japanese tradition at each venue in Fukuoka. We believe our activity plans make our international students have unfrogettable memories.