We held the 2015 NILS Commencement and Graduation Party at Hotel Bientos in Saga Prefecture. Schools typically plan their commencement ceremonies in March to commemorate the successful completion of all requirements at schools. This year, 140 NILS students graduated, and this was their very last school event after studying 1.5 to 2 years at NILS. Surrounded by classmates, teachers, the Mayor of Ogori, and other distinguished guests, these graduates participated in the ceremony concluding their work. After NILS, many go on to work or begin college, graduate schools and/or professional schools.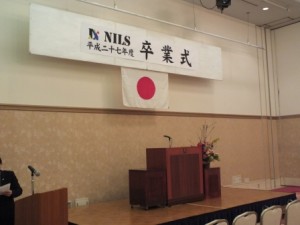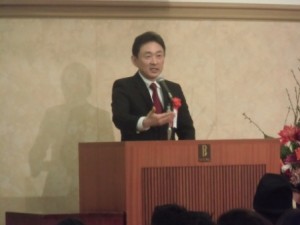 Comments from Teacher
The graduation season is upon us. Every year, I feel very proud and happy for our graduates, but at the same time, I cannot help feeling sentimental to let them go. I hope they visit us and keep in touch as we all wish them the best and think of them just as much even after they graduate from NILS.
At our Commencement, graduating seniors and current students exchange songs. They must have practiced a lot this year as we heard beautiful voices; some graduates were crying, too. Some reminisced how these songs brought numerous memories of the fun and new experiences they had in Japan.
After the commencement, we hosted a graduation party. We enjoyed a delicious buffet at the hotel while students entertained the crowd with music and teachers put on follies on the stage. This was an event "not to miss" because this was where normally very strict teachers expose their humorous side. After the entertainment, each class and the teachers gave speeches. After many tears, the ceremony ended.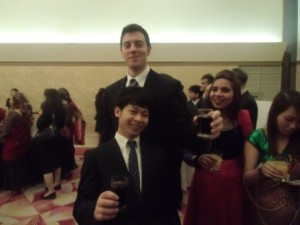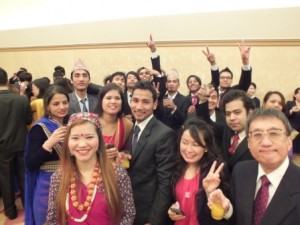 Comments from Students
"My Thoughts on the Commencement"
Two years flew by in a flash, and there I was at my commencement. Our teachers and staff hosted a grand ceremony for us. Our teachers, who taught us the Japanese culture in detail, again showed us how to attend a commencement ceremony – how to step up onto the stage, bow, and space ourselves on the stage. The current students sang a song called "By Meeting You", and we were all so touched and overwhelmed with emotions. Everyone sent us off in a roar of applause after the song. After the ceremony, we attended a reception. We enjoyed delicious food and watched funny shows put on by our teachers. With deep gratitude, we said good-bye to all our teachers. I will forever remember this commencement. —Gui Jingjing from China
"Graduation"
The graduation ceremony was very formal and well organized, just as you would expect from a Japanese ceremony. It was very fun and it was a great way to spend the last time with my classmates. Also, after the graduation ceremony, there was an after party that the teachers and staff organized. We chatted a lot with the teachers, and our classmates, and also enjoyed a play that was put on for us by the teachers. I am very thankful for the time they put into everything and it was a lot of fun. Those were my last moments at NILS, and I will keep them with me forever. I am very grateful to NILS—my Japanese has become very conversational thanks to a lot of the teacher's help. —Stekelenburg John Isaac from the U.S.