On February 17 (Wednesday) and February 18 (Thursday), we held Student Presentations at NILS. The purpose of this competitive event is to demonstrate how well students have mastered their Japanese language skills. The students do this by acting on a stage. Students in the beginners level select a certain situation, learn the appropriate phrases, and carry on a conversation. In addition to acting, the intermediate and advanced level students simulate formal presentations that they are likely to use in college or professional situations.
Comments from Teacher
This year's Student Presentations were very interesting and they covered a variety of topics. Students in the beginners' class did a role-play activity in which one student acted as a travel agent showing different tourist spots in China, Spain, and Canada while the other student acted as his/her customer. There was even a very unique drama where a tourist encountered a bear during his trip to a hot spring.
The intermediate and advanced level students performed both stage acting and formal presentations. Such activities involved discussing the types of professional fields in which Japanese people like to work, a sales presentation where students compared desktop and notebook computers, and a data analysis of international marriages between Japanese and non-Japanese people. All of these topics were very interesting and taught me a lot. Students needed to memorize long and complex sentences, but I believe the students were able to remember the grammar for the long term due to the requirement of physically acting and performing these tasks.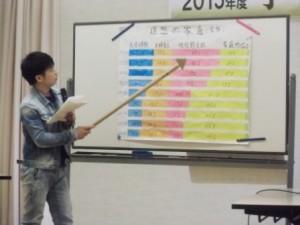 Comments from Students
"Student Presentations"
A "Student Presentation" typically involves reciting long verses from memory in front of an audience. Last week, Student Presentations took place at our Japanese language school, NILS. Even though some students felt shy and somewhat hesitant, the students performed very well. It is not easy to perform in front of an audience, but I found it to be a good venue to express my views and emotions. This type of event should take place at all schools. Doing presentations is helpful for students to practice speaking and it ultimately improves one's social abilities. (Kaur Mandip)
"A Good Practice"
On the day of the Student Presentations, all my classmates were a little nervous. It might have been because all of them wanted to do their best. We weren't nervous because we wanted to win—it was because we wanted our classmates to be proud of us. Overall, it was a beautiful experience. It was also a great way to improve our speaking skills, as we had to memorize correct grammar structures. I'm sure we will all become more skilled thanks to the presentation. Ganbarimasho!! (Ramos Jaume Aguilo)
"International Marriages: Difference Values"
Our annual Student Presentations took place on February 17th. I think this year's topics were more difficult than the last year's. Our teacher decided on the theme, and we students came up with the script and charts. It was a challenging task since it was only three of us working on it. However, our teacher was very thorough and we were very happy with our final product because of our teamwork. It was also my first time to present as the MC. I was very impressed with everyone's excellent pronunciation and fluency this year.