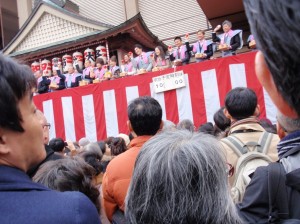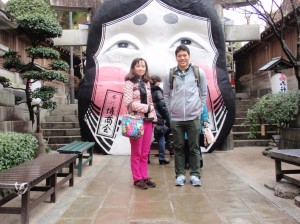 We have an annuary event on 3 February. It is called 'Setsubun' meaning the day of season change. It is traditionaly the day of the season changing from winter to spring although it is still cold in this time of the year. Japanese people join this event by throwing beans toward 'Oni,' which means devil, with saying, "Oni wa soto, fuku wa uchi!!" The word 'Fuku' means the happiness. 'Soto' and 'uchi' are outside and insaide. So they say "Devil out, happiness in!!" The person with the devil mask has to get out of the house, classroom, or inside of a building.
One of our students gave us a comment of this event;
I found the trip to be very interesting and very insightful to Japanese culture. The throwing of the beans and festival brings back a child's and parent tradition that has been celebrated every year. Watching the elder and younger generation forms a picture and scenery that brings everyone together because of past memories and new one being form at the festival. It brings a sense of family to the Japanese community and spiritual scene.