On January 15th, we visited Dazaifu Tenmangu (Dazaifu Shrine) and prayed for our students' admittance to professional schools and colleges. Prior to the visit, we went to Kyushu National Museum. Students prayed and bought Omikuji (paper fortune) at the Shrine. In the Museum, they were interested in a variety of arts and crafts that illustrated Japan's historical relationships with its neighboring Asian countries.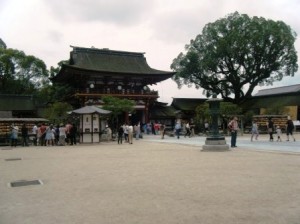 Teacher's Comment
When we got off the train at Dazaifu Station on the Nishitetsu Line, we began our walk on a path (sando) to Dazaifu Shrine. This sando is lined with a number of souvenir shops. At the end of the sando, we saw a red bridge leading to the shrine. Underneath the bridge, carps of all different colors were swimming. I was touched with this quintessential Japanese scenery.
After our visit to the Museum, I taught our students how to pray at the Shrine and bought my Omikuji. I tried to explain the meanings of the fortunes told in Omikuji, but they were so complicated that I frankly couldn't really explain them. On our way back, we ate Umegae mochi (Dazaifu specialty). Since the name includes ume (plum), I was looking for something to do with plum, but it was a grilled mochi cake with azuki beans inside. The aroma that comes from mochi on the grill was so enticing!
Comments from Students
"We went to Dazaifu for a school trip recently. Many students visit this shrine because it was built for the god of studying. There were many students as well as tourists. Also, there is one of the most famous museums in Kyushu at Dazaifu, and they have various exhibits throughout the year. The Shrine is a great place to visit and experience Japanese culture."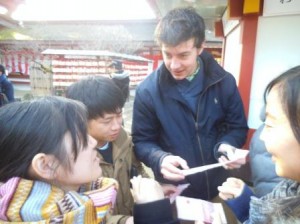 "On January 15th, we went on a field trip to Dazaifu and the Kyushu National Museum. The museum was full of inspirational items, but there were so many that we could not seem them all. On the 4th floor, we saw a wooden boat. I was impressed with the technological inventions of the time. We also saw agricultural tools used by people during the Yayoi period (from 3rd century BC to 3rd century AD), Jomon period (from about 15,000 years ago to about 2,300 years ago), and the Kofun period(from the mid 3rd century to the end of the 7th century). In another room, we saw stone sculptures. I could not believe the advanced level of sculpting technique that existed so long ago. Also in another room, we saw ancient books. I was interested, but the letters were like pictures and I didn't understand them. All in all, I was truly impressed with people's wisdom and creativity as they lived in this land. We owe our life to this continuing endeavor of people throughout our human history. This thought reminded me not to waste time and to fulfill my life."