NILS students enjoyed making their own Kompeito (金平糖), which is a mall colored sugar candy covered in bulges and it is said that it was  introduced by the Portuguese in the sixteenth century to Japan.  Here is the comment from one of our students.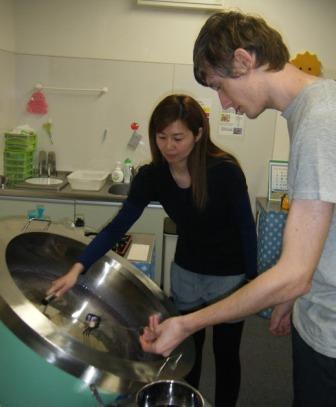 We visited "Kompeito Kingdom" to understand the history and origins of the famous Japanese sugar candy – Kompeito introduced by the Portuguese in the sixteenth century.
We were welcomed by the staffs upon arrival and it started of with the introduction of Kompeito, types of sugar used, sizes of Kompeito, colours, the making processes….etc.
Then, we were leaded to the Kompeito Museum, where it showcased many portraits which were made of sugar, and different kinds and colours of Kompeito and the equipment used.
The staff verbally explained the processes, and asked us to choose 1 colour and 1 flavour for our Kompeito. We chose purple colour and melon flavour….shouldn't the flavour be grapes…
Anyway, interesting!
We were given the opportunity to hands on the last few processes, such as colouring and adding flavour to our Kompeito.
While waiting for our Kompeito to be ready, the staff introduced another confectionery called Karume Yaki, foam candy from heated brown sugar mixed with baking soda. She demostrated the making of Karume Yaki, and we were astonished when we saw it raised and harden from the pot…
We cutted and tasted the Karume Yaki, sweet and crispy, and it just melted in your mouth…. Yummy, yummy….
We got to taste different flavours of Kompeito, such as, coffee, blueberry, banana, mushroom, salt, wine, etc… some flavours are really interesting and unique.
We were each given a pack of the Kompeito which we made, and we purchased some other flavours of Kompeito as well. I also bought a set of Karume Yaki kit so that I can try it when I returned home.