Dazaifu Tenmangu Shrine is the most famous shrine around the area.  Many students visit here to pray for their success in entrance exams for schools.  Our students learned the traditional way to worship at a shrine.
Sensei gave an introduction of Dazaifu Tenmangu Shrine, it's history, legend of Sugawara Michizane, how to worship at a shrine, etc… before the trip.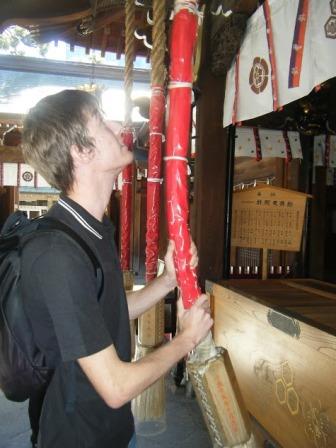 We set off for Dazaifu after the briefing.
As it was raining, our hands were occupied with umbrellas…, hence, I am not able to take photos this round… however, Sensei managed to take a few for me…
It was interesting to go through the proper way to worship at a shrine. We washed our hands and rinsed our mouths at the washbasin, before proceeding to the hall of worship. I am lucky to have a 5 yen with me. I threw the coin into the offertory box, but not able to ring the bell as there was no bell, with 2 bows, 2 handclaps, pray, and another bow.
We walked around for a while, and proceeded to Kyushu National Museum as it was raining.
We spent some time at the Cultural Exchange Exhibition on the cultural history of Japan and Asian countries, then, we headed to Kasa-no-ya for the Dazaifu's specialty – Umegae Rice Cake and Matcha green tea.
The Umegae Rice Cake was yummy, and it was served hot, the outer layer was baked until golden brown and the inner was filled with Azuki bean paste.
We strolled along the street which led us to the train station and ended our trip.
Although it was raining throughout the trip, but overall, it was still an enjoyable and pleasant trip.