NILS students in the Short-Term Program enjoyed making their own kumihimo, a traditional braided cord.
"Today's activity took place in Akasaka, where we supposed to make our own Kumihimo. But what's that exactly? What I could understand from the lovely Japanese lady was, that this kind of cord can used a belt or was used in the ancient time for the samurais as a gadget for their sword cases.
To be honest, I didn't really have an idea, how it would look like, until we started to make them. Taking eight single threads and weave them together produces a cord. However, there are different types of making them. We did two. The first one to start with wasn't that difficult to make, but time consuming. For a 15 cm long cord we needed about 40 minutes to make them.  From now on, I appreciate such traditional handcraft work even more. We did it during sitting on the floor. For us western people, or probably me only, it is ok sitting about an hour on the floor doing the work in the meantime. That shouldn't be understood as a complaint at all, it is, I think, worth mentioning, that sitting on the floor for a longer time can afterwards make it hard to stand up again, because you get a little bit stuck in the sitting position. However, being productive and creating a nice omiyage for our families and friends counts way more than having (only) something bought."   —Dennis-san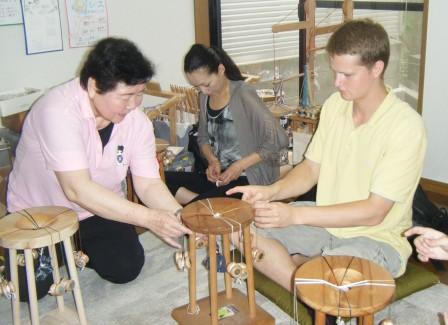 "We took a train from Ohashi station to Tenjin and from there a bus to another stop. And then we walked a little ways through the downtown, until we arrived at the kumihimo class. Kumihimo is making these strap sort of things that are meant to be accessories while wearing traditional Japanese formal wear. A mere string that's tied in a complex way. We made two of these each, one more complex than the other. These are made using a stool – like tool with a hole in the top. A weight anchoring down on the strap as it's being made, pulling down the fibers that are being anchored from the outside by their spool. Actually making these you have to make move these spools in a pattern on the outside, making the thread in the middle tie together. The first being a bunch of flipping back and forward to the opposite side, the second me in moving two spools in two sets clockwise then another two sets of two counterclockwise. Although confusing for a while, you eventually build into a rhythm. In the end you have a strap with a pattern based off the technique and colors you used, pretty ones at that. At the end they gave us a small cup of coffee and an interesting type of cheese cracker and a gift for using their store." —Hunter-san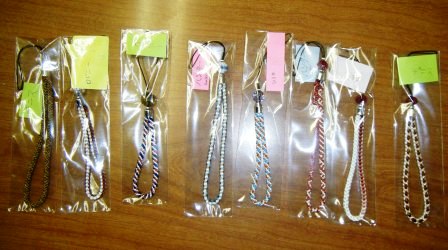 NILS offers you a variety of cultural activities, and you will definitely have a wonderful experience!