This week we went to Yusentei, an old Japanese house that was used by a big samurai family.
We found out that Japanese gardens are designed to be beautiful through all the seasons. I really liked that, because in England we don't see autumn or winter as a time to 'enjoy' gardens, just because the weather isn't as nice. I love nature, so it was great to find out that a traditional garden could be enjoyed all year round.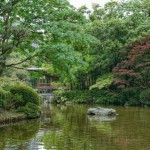 Because it's summer, everything was very green. Unfortunately there were some mosquitos too though, so we had to use special spray to protect ourselves! Despite the flies, I loved walking around the pond, which had so many Koi! We were allowed to feed them and pet them, and quite a few were happy to nibble on my hands. It felt very strange, but it was so fun.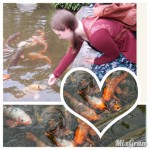 Afterwards, we went inside and were served tea in a beautiful room overlooking the water and garden. The tea was lovely, and they gave us some really cute little sweets with it. I had a bit of trouble remembering the correct phrases to say before and after drinking the tea, and my legs ached a bit from sitting the correct way, but it was still really fun.
After having tea, we looked around the other rooms in the house a bit, and found out that they hold weddings there. I decided to buy some postcards to send my family before we left too, as it was such a lovely experience and all the staffs were very friendly.