Today is Lorna's birthday. She started the short term program at 29th of June.
Teachers and classmates secretly bought the cake, juice and cracker to give Lorna a small birthday party.
Lora was so surprised when she came to the classroom.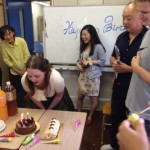 Even though they only met in one month, even though they came from different country, but study、activity、Karaoke and shopping together make them became good friends quickly.
They are enjoying the study in NILS! They are enjoying the life in Fukuoka!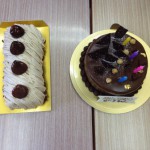 "I spent a very memorable birthday abroad, thanks my classmates! Thanks my teachers!  Thanks NILS! "— by Lora