Last Thursday the class had an opportunity to visit Fukuoka's Hakata Doll Museum and participate in painting our very own Hakata doll.
It certainly brought out the artist in every class member and they did such a great job.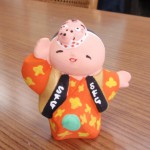 I thoroughly enjoyed the intricacies in color coordination and hand painting my doll.
I now appreciate the artistry and the painstaking details that go into painting Hakata dolls.
Mistakes were made along the way but the paint and re-mixing it allowed for you to correct them.
Now whenever I see a Hakata doll anywhere I go in Fukuoka I realize what it takes to make them.
Thank you Hirose sensei for an enjoyable outing.
――Ray Gin