This week we went into Hakata to check out a store that sells ningyou, or Japanese dolls.
Before that we got short history lesson about the tax system in Fukuoka and learned that if you couldn't pay money you could pay with rice or other goods that you made such as ningyou. Due to this Hakata ningyou came to be known far and wide for their quality.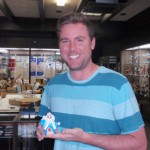 I like it when we tie the activity into the culture. It really helps to cement the information.
Once we got to the store I was blown away by the quality of the dolls. I knew they would be good but they were fantastic. I couldn't even tell they had been painted. The range was impressive as well. From delicate ladies, masculine samurai, all the way down to cute children dancing.
After getting the chance to look around and put the fire to our inspiration we were given the choice of dolls to paint. It was a good cross section so that there would definitely be something that would interest everyone. I chose a cute dancing child as my doll and then sat down to paint.
There was a good selection of paints. Enough to be able to mix any color I could want. We were provided with only two brushes though. I kind of wish we could have gotten one more super fine brush but the two we received managed to get the job done. I have always liked art and painting so this is by far the activity I have enjoyed the most.
Painting calms me and I really lost track of time and before I knew it was almost up. I managed to create something I was happy with but I easily could have spent all day painting it. I most definitely want to come back and paint another one.