On Friday 6/12 we were treated to something I have wanted to do for quite a while.
We got to practice the art of Shodou or Japanese calligraphy. It is a beautiful art that uses solely ink to create stunning paintings or works only using words as art.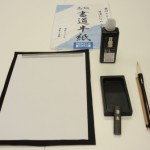 Shodou has even transcended to the level of performance art as some people perform it writ large in front a huge audience. I have watched some videos of the performances and they are truly breathtaking.  So I was not unduly excited to try my hand at it.
To start the teacher gave us some background and showed us some examples of what could be done. It was a good way to get our imaginations really cranking so that we could put our souls onto the canvas with a brush. We then went over the brushes and readied our ink stone with black ink. At this point we were given practice sheets and shown the basics for creating lines both horizontal and vertical as well as circles. What I thought wouldn't be too difficult turned out to be much harder than I expected. It definitely increased my respect for the people who create such stunning works as I imagine it would take many hours to master this. After burning through a ton of practice sheets to get a feel for how the brush creates lines and testing different amounts of ink on the brush I felt I was ready to step up the actual plate and use the special board for the final product. It was definitely more nerve wracking than I was expecting. I really didn't want to mess it up. Despite my nerves I managed to create something I was happy with.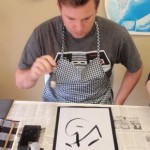 Due to this experience I would definitely look into continuing to practice shodou. The fact that we were able to keep our brushes and ink stone after the event only helps with that desire.
Overall this was an extremely fun activity in both being able to learn about an important part of the culture as well as being able to actual participate in creating something of my own.