Last week, NILS took a student to Hitotsuba high school.
It was one of NILS school activities that offers International students to experience Japanese real society and community.
We've found that there are so many talented students there. Some of them are professional dancers and the team came first in the world dance colosseum (WDC)!
Our student, she is a teacher in Spain. She participated the high school class and has learned a lot of things especially the difference in education between Spain and Japan.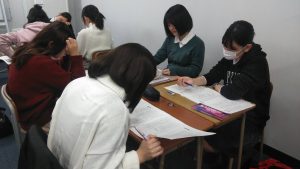 She also experienced intercultural exchange through high school students.
I believe it was great time for her in talking with them. We will provide more better activities for our future international students.
Join NILS program, I am sure you will enjoy learning real Japanese culture through us!
Here is her testimonial.
The other day, NILL Japanese Language School took me to a private high school.
I was very happy because it was the first time I visited a Japanese school.
The teachers taught me the classrooms and the rest area.
At that time, there were students attending classes and students who were resting.
Students who were resting read magazines, ate sweets and practiced Kanji writing. Everyone was free to do what they wanted.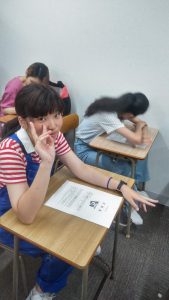 In the next class the English teacher taught grammar. The students listened to the teacher's explanation in silence. I could confirm that Japanese students are quiet and very formal.
I spoke with students in another classroom "especially about Spain" When the students asked me several questions, I was a little surprised because the students knew very well about Spain.
Thanks to Tsuboi-san from NILS Japanese Language School and the high school staff I had the opportunity to visit a Japanese high school and talk to their students.
It was a good experience.
Thank you all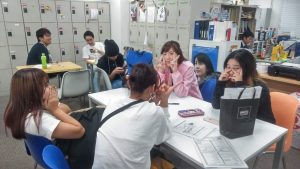 先日、NILS日本語学校は私立高校を見学に連れて行ってもらいました。
日本の学校を訪れたのは初めてだったので、とても幸せでした。
先生がクラスと休憩所を教えてもらいました。
そのときには授業に出席している学生も、休憩している学生もいました。
休憩をとっている学生は雑誌を読んだり、お菓子を食べたり、漢字の書き方を練習したりしていました。皆はしたいことを自由にしました。
その隣にある教室で英語の先生は英語の文法を教えていました。学生達が先生の説明を静かに聞いていました。日本人学生はおとなしくて真面目な学生だと確認できました。
べつのクラスで学生とちょっと話しました。「特にスペインのことについて」学生は私にざまざまな質問を聞くと学生がスペインのことをよく知っているので私はちょっとおどろきました。
NILS日本語学校の坪井さんと高校のスタフのおかげで見学と学生と話す機会があってとても良かったです。
いい経験でした。(原文まま)