こんにちは!またまたKyleさんが、Activityのコメントを日本語で送ってくれました!
Kyle-san sent us his comment about the activity in Japanese again!
私はフロリアンさん、おがわ先生、と林先生と一緒に近くのボーリング場に行ってボーリングしました。久しぶりにボーリングをしました。アメリカでボーリングは結構人気があるので何回もしたことがありますが、あんまり上手じゃありません。皆は靴を借りて4階でしました。人は少なかったけど同じテーブルにもう一つのグループがいました。1回目のゲームは、前半に上手くできなかったけど後半に逆転して最後に2位でした。林先生は素晴らしくやりました。150点までも取ってすごいなと思いました。林先生はボーリングに上手ということが聞きました。それで、結果を見ると確かにそうでした。2回目のゲームは前と比べたら全然上手くできませんでした。フロリアンさんは2位で私は3位でした。少しがっかりしました。ボーリングが終わった後、私たちはパンチマシンをしてみました。自分とフロリアンさんは交代してマシンを殴ってハイスコアを超えるようにしました。私の最高スコアは550点ぐらいだったけどフロリアンさんが800点弱にできました。こらは最後に会う機会だったのでみんなと一緒に楽しくできてよかったと思います。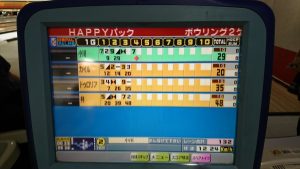 I went bowling at the local bowling alley with Florian, Ms. Ogawa, and Mr. Hayashi. It had been a long time since I last went bowling. Bowling is very common in the U.S. so I have done it many times, but I am not very good at it. We rented shoes and went up to the 4th floor to play. There were not many people, but we did share our spot with another group. While I started out weak, towards the end of the first game I turned it around and managed to take second place. Mr. Hayashi played a really good game and got 150 points. I had heard that he was good at bowling and that game didn't disappoint. The second game I did a little bit worse and I could never make up the points. Florian ended up in second place at the end and I was in third. I was a little disappointed by the results. After the games we tried playing the punching game in the lobby. Myself and Florian took turns punching the machine and trying to get a good score. The highest I got was around 550, while Florian got just under 800. This was the last time I would see him, so it was nice to have fun together one last time. —Kyle, US.