こんにちは!先月末、NILSではスピーチコンテストを行いました。学生たちは、自分の国や家族のこと、日本に来て感じたことなど、さまざまなトピックでスピーチを行いました。スピーチは、内容だけでなく、正しい文法が使われているか、正しい発音で話ができているか、などを採点。
今年の優勝はサビーナ・スレスタさんでした。
Hello! We had a speech contest at the end of last month at NILS. Students made speech on various topics about their countries and family memmbers, their experiences in Japan, etc. Teachers scored their speech with some criteria such as its content, grammars used in the speech, fluency, and so on.
This year's winner was Sabina Shrestha from Nepal.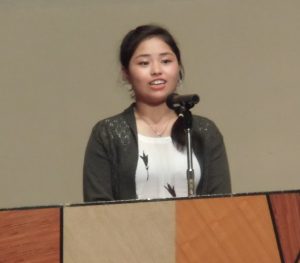 The following is her speech in Japanese.
日本に来たときの私を思い出すと今にも笑い出しそうになってしまいます。なぜかというと、今から考えると簡単にできることができなくて、悲しかったり、大変だったことがたくさんあったからです。
私にとって最も大変なことの一つは自転車でした。実は私は生まれて20歳になるまで自転車に乗ったことがなかったのです。でも自転車に乗れないと学校に通うのも大変だし、アルバイトも大変になるので、乗らないわけにはいけません。ですから、自転車に乗るのは怖かったですが、自分を励ましながら、自転車に乗る練習を始めましたが、最初はなかなか乗れませんでした。公園で何回も転んで、傷だらけ、砂だらけになりながら一生懸命練習を続けたことで、どんどん上手になりました。今はやっと簡単に自転車に乗ることができるようになりました。
それから次に大変だったことは日本語でした。日本語の勉強の難しさは皆さんも感じてると思います。私も今もまだまだ日本語が上手ではありませんが、1年前の日本語のレベルは今思い出すと本当に笑ってしまうぐらい下手でした。アルバイトの面接の時は曜日もわからなくてひどい面接になってしまいました。自分に対してがっかりしてしまいました。その時から私は自分のレベルを上げるため、一生懸命日本語を勉強し始めました。自分が頑張ればできないことはないと思っていました。
また、アルバイトでは初めの日に仕事の仕方を教えてもらったのに、アルバイト先の人の日本語がわからなくて困ったことは、私にとって本当に手強い(てごわい)問題でした。日本語だけでなく、緊張や不安だったり、いろいろな気持ちが混(ま)ざって心がもやもやしていました。このアルバイトは私には向いていないと思うことがありましたが、アルバイト先の日本人が私に
「頑張ればきっとできますよ」
と言ってくれました。その言葉は私に大きな実(みの)りをもたらし、努力することができました。
今ではアルバイト先で「サビーナさん、これお願いね」と仕事を頼まれるまでになりました。
今の自分は1年前の自分と比べてみると、いろいろな違いがあります。自転車が乗れなかった私が今は自由に自転車が乗れます。さらに曜日もわからなかった私が皆さんの前でこのように日本語で話せるようになりました。本当に頑張れば何でもできると思います。1年前の私が頑張っていなければ、今の生活はできていないかもしれません。皆さんもできないことがいろいろあるかもしれませんが、あきらめないで頑張ってみてください。私はこの間の授業で勉強した「ちりもつもれば山となる」ということわざをみなさんに伝えたいです。小さいことから頑張っていけば、きっといい結果が出てきますよ。
It makes me smile when I think back my first day of Japan. Because there were many things i had to follow and it was also tough time for me.
The one of the most difficult things for me was a bicycle. I had never ride a bicycle till i came to Japan. I had to ride because of commute to the school and a part-time job after the school.
I was very scared of riding but i encouraged myself in practice.It was getting better day by day.
Another thing, of course it is Japanese language. I believe everyone feels the same.
I still have to learn more harder but my Japanese was so terrible when I began. When I had a job interview, it was terrible because I could not understand what I was asked. I was bummed out.
Since then, I studied very hard.
At the job, my colleague showed to how to work, what i should do but I could not understand their Japanese. Not only Japanese but also I was tensed and felt uneasiness.
But they always encouraged and helped me, said "You can do it , do your best"
Recently, they say "Sabina, would you do this?" I think I improved a lot and i am happy to be asked.
Compared to the previous year, I realize many difference. I can ride a bicycle. I understand in Japanese what I was asking. I can communicate with Japanese people. I am speaking Japanese in front of everyone now!
I tried to do my level best so that I could make it. Please you also do your level best.
[Small things add up to make a big difference.] This is what I learned recently in the class.
I hope you will also get good result like I've got.
Thank you.