山笠は福岡三大祭りの一つです。NILSの学生は7月15日早朝に行われる追い山の見物に行ってきました。
Yamakasa is one of the three major festivals in Fukuoka. Our students went to see its climax with a spectacular time trial race in the early morning hours on July 15.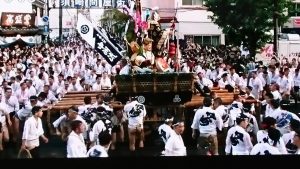 Here is a comment from one of our students.
"The Yamakasa Festival was a once in a lifetime experience. The morning started earlier than most with the alarm ringing at 3 am to indicate that it was time to head to Fukuoka City. With Ogawa-Sensei and Hayashi-Sensei we met up with two other NILS students and made our way with the crowds to the centralized places where we could see the races. It was a very lively festival, with plenty food and crowds of people.  The races started at 4:59 where 6 teams would find out which was the fastest. Each team carried Kayikamas, decorated floats that each weigh about 1000 kg (2000 lbs) and are timed as they run them through the city for a certain distance.  It seemed as though each team has around 100 members divided into around 50 carriers, 2-4 people who sit in the Kayikama and direct the runners, and then tens of people running with the carriers. There was a lot of shouting and drumming which transferred energy to the contestants and crowds. During the race there were people who threw big buckets of water on the runners. Ogawa-sensei said it was called "chikara water" (power water) to give power to the runners. I liked this detail because it seems like a nice gesture for the runners. The races ended at around 6:00 am after which people dispersed into the restaurants to eat, and the winners get free meal which is prepared at tables for them at a local spot. It was a wonderful experience and a very fun tradition to witness.
山笠はすごくて賑やかで人気があるまつりです。はやいまつりです。かきやまはきれいです。だんごはおいしいです。山笠の人は速く走りました。面白いです!"
—Mariela, US