The Dazaifu Tenmangu Shrine trip was a lot of fun.
It was rainy in the morning but by the time we got there it was just overcast which meant it wasn't that busy which was nice.
First thing we did was wash our hands.
It was good to learn the proper method. It is important to learn these little cultural facts as it helps connect us more to the language.
After properly washing our hands we entered the shrine to pray for success in studying.
Dazaifu Tenmangu is a shrine for the god of knowledge so it is particularly good for praying for success in learning.
I didn't know which coins were the best to donate at shrines so it was nice to find out that you should use 5 or 50 yen coins due to the hole in the middle.That way you can see through them into the future.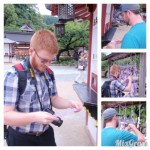 After praying we walked over to collect a fortune.
I only managed to get an average luck fortune.
Despite that I know my luck was good as next we made our way to the Kyushu National History Museum.
The museum was hosting an exhibit about different Asian cultures as well as Japan's history with its Asian neighbors.
My favorite part was the room with all the katanas.
I have always been interested in katana swordsmithing and it was cool to learn some of the history behind the best of Japans swordsmiths.Overall the museum was an excellent place to visit. It has a lot of beautiful pieces with great explanations and supplemental material.
No trip to Dazaifu Tenmangu would be complete though with some umegaemochi and macha tea. So we made our way to the main street near the station and stopped in a nice looking restaurant to try some. We were not disappointed. The mocha was warm and delicious and the macha was cool and refreshing.
Definitely the best way to end the trip.
I had a lot of fun and look forward to the next activity.