In this week's school activity at NILS Language School, we got to make traditional Japanese paper crafting. It's called Washidzukuri.
The actual process of making the paper is complicated and takes a lot of time.
We only got to make the easy part.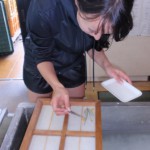 First we could choose what kind of crafting we wanted to do, you could choose between fans, name cards, bookmarks etc.
I decided to make the bookmarks.
After going through the process of creating the paper base we got to pick different kind of dried flowers and grasses to decorate our paper swath.
After we were done decorating, everything had to dry, while it did, we walked around the building and looked at beautiful traditional Japanese handicrafts.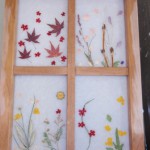 I'm very happy with my finished bookmarks, I think they'll make a very nice souvenir for my family.
I'm glad that I not only learned about Japanese paper making, but also got to experience it myself.