〈Fukuoka Tower〉
In Fukuoka, there are many sightseeing spots such as Dazaifu Tenmangu Shrine, aquariums, and museums.  The other day I asked a NILS students what  he liked about going to Fukuoka.
He replied that it was Fukuoka Tower!
Fukuoka Tower is 234m tall. As a beach tower ,it's the tallest in Japan.
From the observation room of Fukuoka Tower located at 123m, you can see the view of Fukuoka cityscape and Hakata Bay in a large 360-degree panorama.
In addition, there is a "Tower Aquarium Event" from July 23 till August 21, 2022.
During this Illuminations event,You can see some goldfish swimming on the surface of the Tower as if they are doing so iaside of the aquarium
This illumication is linked to the movement of four kinds of goldfish, and this spectacular production makes the water fluctuate and rippl.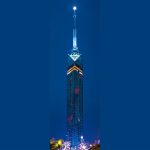 Fukuoka Tower is located about 27 minutes by Nishitetsu bus from Hakata Station, and about 15 minutes from Tenjin, so transportation is also convenient. 
When you come to Fukuoka, please go see it!