Here are some famous Japanese festivals.
Hello, I would like to introduce a famous Japanese festival called Yamaga Lantern Festival.
Do you know about a famous Japanese festival called Yamaga Lantern Festival?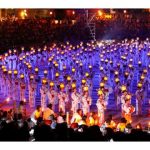 This festival is held every August in Yamaga City, Kumamoto Prefecture.
Yamaga is famous for its hot springs, but it is also famous for its summer festival in which a thousand women with lanterns on their heads dance gracefully.
Lanterns are crafts and lighting fixtures made of only Japanese paper and glue.
Among them, Yamaga lanterns are golden in color, have a distinctive shape, and are very beautiful.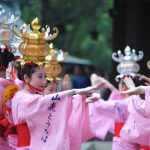 Today, I would like to introduce some of the highlights of summer festivals that use these lanterns.
The "Sen-nin Odori" dance is performed by women dressed in white yukata (summer kimono) with golden lanterns on their heads, dancing to the tune of the "Yoheho" verse.
A thousand women will dance in a spectacular manner.This dance is a summer tradition in Kumamoto.
The atmosphere is so magical that the audience feels as if they are transported to a different space while watching.
You will feel like you have been transported back in time.
If you come to Japan, you should definitely visit this festival.
It takes about 2 hours from Fukuoka by bullet train or highway bus.