We participated in community activities.
On June 28, students gave a presentation on "My Country/Town" and "My Important People" at a nearby community center.
The community center is open to the local community and anyone can use it.
The Vietnamese group made posters on the theme of the four seasons in Vietnam. The posters were excellent works of art. The leader of the group, Ms. Hung, gave a presentation on Vietnam's seasons and their beauty on behalf of the group.
She also talked about her loved ones.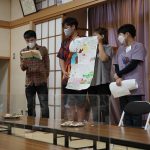 The American Group presented Faith's presentation about her husband, Dustin.  The story about their wedding was a bit hit. Dustin, who was standing next to her, was overjoyed. He and his wife are studying abroad together, but she didn't tell him about the presentation.
After the presentation, we all enjoyed chatting over a cup of tea in the Japanese-style room.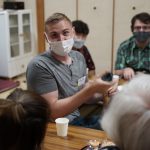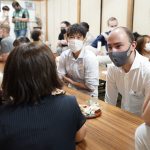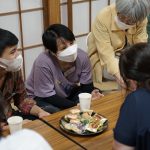 This room is open as a café on Tuesdays twice a month. Japanese people who live nearby come here to meet their friends, so we enjoyed chatting with them.
After talking with them, we decided that the students would come here from time to time to demonstrate how well they are learning Japanese. This is a chance to make friends with Japanese people. Let's have fun!