Student's Interview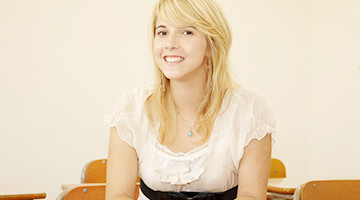 Interviewer

How was the graduation ceremony and party?

Micaela

The ceremony was good, it went by very quickly. The party was great because it gave the graduates and teaching staff one last chance to spend a few hours together having fun. Everyone seemed to enjoy it.

Interviewer

You first planned to finish the course in a year, but you extended your study at NILS. Right? Why?

Micaela

I chose to continue studying at NILS, because I simply felt that one year of Japanese language study was not enough for me. After spending a year getting to know the students and staff, I felt that I wanted to graduate the same time as everybody else, with the same amount of skill as my classmates.

Interviewer

How was your study at NILS?

Micaela

It was very interesting and it allowed for many great experiences. The trips to Nagasaki and Dazaifu were fun, and gave us a chance to visit places we might not otherwise go in our own free time.

Interviewer

Do you want to tell anything to teachers?

Micaela

I would like to thank the teachers for their patience and outstanding support.

Interviewer

Thank you. We are so glad to hear that. Well, what will you do after graduating from NILS?

Micaela

I am entering a Pro Musician Course at Fukuoka School of Music in Hakata. My goal is to continue studying Japanese through practical use.

Interviewer

Any messages to those who intend to come and study in Japan?

Micaela

The most important thing you need to understand is that it's not going to be easy all the time, you're going to have troubles, and you might even feel like giving up, but the most important thing is that you don't. NILS not only offers you a chance to study Japanese, but it offers you real life experience in a foreign country. There are many adventures and new experiences waiting for you at NILS, and no matter what happens, good or bad, you can be made a better person because of it. As my favorite quote says, "Don't be anything less than everything you can be."  Come to NILS, and maybe I'll see you around!

Interviewer

Thank you very much, Micaela. We hope you will be successful in the future.