Student's Interview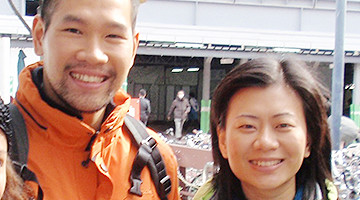 Interviewer

Is this your first time to come to Japan?

William

Yes, it is our first time to Japan.

Interviewer

What is your impression of Japan?

William

People are very polite and very discipline. All toilets are very clean. Fukuoka's sightseeing is very beautiful. We like Fukuoka very much. "Tenjin chikagai wa tanoshi desu (It is fun to shop at Tenjin underground shopping arcade)."

Interviewer

What do you think about this one month Japanese course at NILS?

Hoi

It has been very good. William and I enjoyed the course very much. Sensei(teacher) are very kind and patient. We are glad that we choose NILS to learn Japanese.

Interviewer

As you know we usually have an activity and a test every Wednesday, so what do you think about it?

Hoi

It is very good. Test is necessary. It makes us to review vocabulary and grammar more and know whether we had mastered. Actually we need to be tested more to stimulate.
Activity is fun and good. We love it. We went to Hakatamachiya, did Sado (tea ceremony) and Origami (paper folding). During activities we learned more Japanese culture and local people's day to day life.

Interviewer

Where did you go when school was off?

William

We went to Dazaifu shrine, Tenjin and Hakata for shopping.
We went to flea market. It's very interesting to bargain in English and Japanese, a little bit tough, but we bought a very cool camera made in 1970's with good price.
We went to Yanagawa, too.

Interviewer

Did you try Kawakudari (a boat ride down the waterway around the castle)?

William

Yes, we did. The man introduced a lot and sang to us, but we couldn't understand his Japanese, so we should learn more Japanese. (laugh).

Interviewer

Well, hope you keep on studying Japanese.

William/Hoi

Yah, we will. It's fun.

Interviewer

Do you want to come here again?

William

Yes, definitely. We are considering NILS summer course if we can get the vacation at that time.

Interviewer

Thank you very much for taking your time. Hope we will see you next summer again!