Student's Interview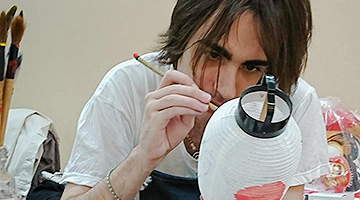 Interviewer

Did NILS help you improve your Japanese?

Hunter

Yes, of course.
I have learned Kanji, pronunciation, grammar, vocabulary, listening skills very well.
These skills improved better than before.
When I had questions, teachers always answered my questions immediately.

Interviewer

How helpful was the staff after you started the program?

Hunter

They helped me with everything from getting an apartment to finding a Yakisoba restaurant.

Interviewer

This is your third times in NILS short-term programs, right? What made you come back NILS?

Hunter

Yes, this is my third time in NILS. Fist time, I was a teenager and at first, I was a bit worried about getting along with teachers, classmates and staying in Japan. But teachers were so kind and I made friends with other students from various countries. NILS short-term program may be held in a small size, but I could get a chance to talk a lot with teachers closer.

Interviewer

How would you rate your teacher?

Hunter

Excellent. All the teachers where very good, with little to no faults.
I have attended NILS short-term program twice before. And also in this time, I have had a good time in studying NILS and improved my Japanese skills, especially Japanese onomatopoeia. There are so many onomatopoeias in Japanese language.
I mastered "fuwa-fuwa", like "fluffy" in English.

Interviewer

How about NILS school Activity??

Hunter

I have experienced many cultural activities in NILS. I went to Yanagawa area, washi-paper making, lantern painting. I like to draw pictures, so these NILS activities are very nice.
NILS school Activity?

Interviewer

How was your stay in Fukuoka?

Hunter

There is not too much to say. Awesome time in an awesome city at an awesome school.
Foods good, people are nice, and lots to do and see!
I love the Japanese life style and Japan as a whole.
I hope I will come back here again!
He enjoyed NILS school activities!