今回のActivityは博多湾ナイトクルーズに行ってきました♪
あいにく、小雨が降っていましたが、乗船後しばらくすると雨が止み、博多湾から福岡の観光スポットを一望できました!
More importantly, thanks a lot for the activity. It was something quite unexpected and very interesting. Fukuoka has some interesting sights, only available by boat. I can mention that, luckily, I have traveled quite a bit and have had similar boat sightseeing in different parts of the world such as Chicago, Miami, Buenos Aires, Venice. Fukuoka is surely among the most beautiful cities I've had the opportunity to visit.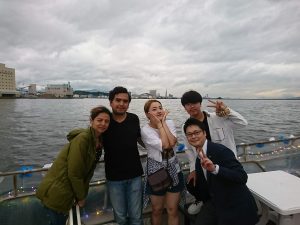 The activity itself was very well planned, thanks a lot. For a moment it seemed that we might have to stay inside the covered part of the boat (because of the rain) but luck was on our side. Also, it was great timing! not too late, not too early. I specially liked the part where we got to see the Tower, Canal City (from the actual canal) and how we almost made it to the open sea.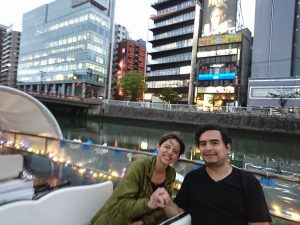 The music was spot on too. I wanted to comment on Japanese but maybe my skills are not as good as I'd like. That and I have found it quite challenging to write Japanese on my computer keyboard (for some reason I can't quite pin point).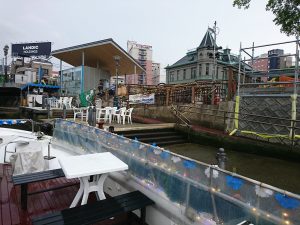 I know it can be difficult to communicate with students that speak almost no Japanese at all, and I really appreciate it.
Thanks again for a great activity and I am looking forward for the next one.