We took another enjoyable and edifying excursion into Hakata culture.
Hirose sensei helped us understand the historical and cultural basis for the upcoming Yamakasa Matsuri (Festival) through her introduction at school and then at the museum and the shrine.
The exhibits at the museum were terrific and the video showed us what to expect on July 15th when the Matsuri concludes with a big bang at 4:58am!!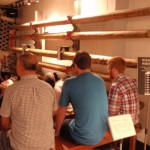 To see the shrine to which all the floats circle was also an added treated.
Great day!!