Do you have any rules when you take a test in your country?
We have rules that you should follow during taking a test in Japan.
We have varieties of tests- Mini kanji test, Checking test, Final exam, etc. at NILS.
You should follow the rules during those tests.
Our first-year students also started taking tests already, but some of them seem unprepared to follow the rules.
So, let me tell you how you should take a test.
Tests in NILS?
<Test schedule>
Mini kanji test : Take this test when each kanji class is over.
Checking test : Take this test for each subject. 
Final exam: Take this test at the end of each semester.
Textbook test : Take this test when you finish learning all the text contents. 
How to prepare for the test

テスト前の準備
* Seat on time
You are not permitted to take a test even if you are 1 minute late.
Enter your classroom 5 minutes before the test starts. 
* There should be no other stuff other than pencils and an eraser.
Put other stuff in your bag.
Inside your desk should be empty. Even your pencil case should not be left inside the desk.
*Turn off your smartphones and watches.
Rules during the test

テスト中のルール
Do not start writing your answers even after you are provided with the answer sheet. You will be allowed to touch your pencil only when you hear the announcement to do so.
Do not talk to someone from when your test sheet is provided until the answer sheet is collected.
Smartphones and watches should be set to remain silent.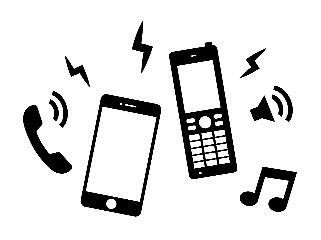 Don't look at your classmates answering or pretend to look at others.
You can't write answers on your desk or your body to cheat.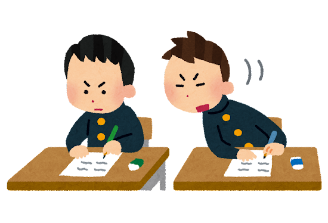 Please raise your hand quietly when you drop your writing materials. Do not pick them up by yourself.
When you hear a verbal final call, you can't write anymore. 
If you ignore those rules, you will never be permitted to take the test again.
You will be asked to wait in the school office until the allocated test time is over. Your score is 0 in that case.
Also, don't forget to write your name. Your scores are not calculated if you forget to write your name on your answer sheet.
Pass or Fail

合格・不合格
Some exams indicate whether you pass or fail. The minimum grading score will be calculated after the test.
In case you fail the exam, you must take the test again, so you need to prepare enough to pass only once. You cannot take the test more than twice. An assignment is given to you instead.
Even other tests that only grade scores give you an opportunity to get an endorsement admission for higher education. You need to score over 70 points on each test for that.
Late coming or absent

遅刻・欠席の場合
When you are Absence or late
What do you do when you are absent from or late for the checking test?  The answer is – You must take the test later. But remember, it would not be better to be absent or late because your score percentage should be 80% in this case.
How do you feel about Japanese rules? Do you feel more confined in Japan than in your country?
Our students are learning how to take tests at NILS, too.
I know you have difficulty going through these test preparations, but do not hesitate to ask for any support. We are always happy to help you!