Hello. I am Kikuchi from NILS.
2023 July's JLPT(Japanese-Language Proficiency Test) application has just started.
Today, let me introduce Ms. Hao.
She is going to tell us how to study JLPT. Actually, she is a graduate student of NILS this year.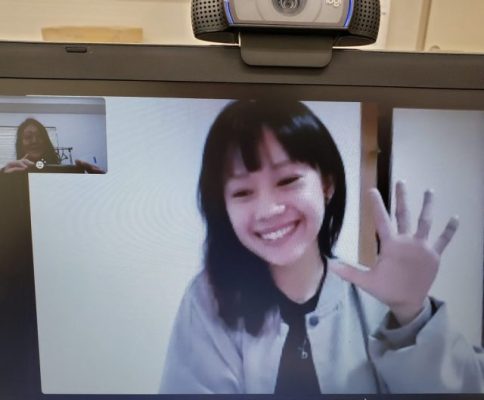 Ms. Hao who passed JLPT, N2.
Kikuchi ("K"):  Ms. Hao, congratulations on passing JLPT, N2 last December!  
Hao ("H"): Thank you!
K: Could you please let us know how you have studied Japanese and finally passed JLPT ?
NAT-TEST was my first step
 K: First of all, can you tell us how you studied Japanese in Vietnam and came to Japan?
H: Sure. I started studying Japanese 4 years ago. I was a first-grade student in high school then.
A Japanese teacher at my school in Vietnam recommended challenging NAT-TEST at first. In the end, I succeeded in passing N5 in October 2020, then N4 in December 2020, and finally N3 in February 2021.
K: Since we have chances to challenge JLPT-TEST six times a year.  The test is so important to check your level and also, it is a good test to prepare for JLPT, right?
I would like to ask you the next question. What is the most difficult thing for you when studying Japanese?
H: It's definitely vocabulary.
K: Vocabulary? Isn't it Kanji?
H: Not Kanji. I can imagine how much time it will take to master kanji or grammar. On the other hand, I can't guess how many hours I should take to master vocabulary. I know there are no limitations to learning things, but you know, vocabulary is endless.
Visualizing tasks to make a specific plan
K: It is hard to solve a problem when we cannot figure out what we should do.
H: Exactly. So, I change every difficult things to numbers instead.
K: What do you mean?
H: For example, we need to study 1000 kanji characters for N2. If I study N2 and there are 3 months left for the test, I can count how many kanji characters I have to study each day. Then, my study plan becomes so clear.
K: I see. That's a good way to know your progress level, and it becomes much easier to find missing tasks and do them on other days. After you see what is missing or not, you can study efficiently.
Never give up your dreams
H: Exactly! However, there is one thing that is more important than how to study. It is the spirit to never give up on your dreams.
Actually, sometimes I have tough times, but I can overcome everything because I have strong motivation. I came to Japan because I really wanted to live in Japan and speak Japanese for my job. I will never give up on this dream, and I will continue to make efforts for my goals.
After the interview
After Ms. Hao's interview, I learned that visualizing is the courage to challenge what we can and cannot do. Also, visualizing lets you do not escape from anxieties or unfamiliar things.
She said ''Friends are also important.''
If there are 10 people, there are 10 different ways of studying.
Let's do our best for this July's test. Let's share tips and knowledge with your friends!
N2.JLPT合格を目指そう!【N2合格】ハオさんの勉強方法
NILS小郡の菊地です。
2023年7月のJLPTの申し込みが始まりましたね。
今回の記事ではJLPTの勉強について、
今年卒業したハオさんという学生のインタビューを紹介します。
N2合格のハオさん
菊地(以下、K):ハオさん、去年12月のJLPT、見事にN2合格しましたね。
ハオ(以下、H):はい、ありがとうございます。
K:今日は、これまでハオさんがJLPTのためにどのような勉強をしてきたのか、
いろいろ聞かせてください。
スタートはNAT-TEST
K:まず来日する前にベトナムではどのように勉強していたんですか。
H:4年前、高校1年生から日本語の勉強を始めました。
ベトナムにある日本語学校の先生に、NAT-TESTをすすめられて、
2020年10月に5級、12月に4級、2021年2月に3級に合格しました。
K:NAT-TESTは年に6回、隔月で受験できるし、レベルがJLPTに
対応しているから、実力アップの確認やJLPT対策にはいいテスト
ですよね。
勉強で一番難しいことは何ですか。
H:語彙です。
K:え、漢字じゃなくて語彙?
H:はい。漢字や文法は、自分がどれぐらい勉強すればいいか
限定できるんです。でも、語彙は勉強すればするほど、また
新しい単語が出てきて、終わりが見えません。まあ、勉強に
終わりはないんですけれど。
課題、やるべきことが見える「視覚化」
K:確かに、やるべきことが「見えない、わからない」となると、
どこから手を付けていいかわからなくなるときがありますね。
H:そうなんです。だから私はJLPTの勉強をするときは、
全部数字にします。
K:数字って?
H:例えば、試験まであと3か月、N2の漢字数は1000なので、
1日にいくつ漢字を覚えればいいか、そうやって数字にして
勉強の計画を立てます。
K:なるほど、そうすれば自分がどこまでやったか、
あるいは、もし忙しくて計画通りにいかなくても、
1日単位の数をまた振り分けることができる。
できたところ、できていないところがいつも見えているから、
勉強にしっかり取り組めるということですね。
「夢をあきらめない」
H:はい!でも、それより大事なのは、当然のことだけど「あきらめない」
ことです。私は日本に住んで日本語を使う仕事がしたい、大変な時は
どうして自分が日本へ来たのか、その夢を「あきらめない」という
思いが私のモチベーションになっていると思います。
インタビューが終わって
できること、できないことを「視覚化」するという計画は、つまり、
「わからない」という不安や「できない」という弱さから逃げないこと、
自分の弱さに立ち向かう勇気だと、ハオさんを見ていて感じました。
また、一緒に勉強する仲間も大事だとハオさんは話してくれました。
10人いれば10人それぞれのチャレンジや勉強方法があります。
いいところはシェアして、今年の7月まで頑張りましょう!