Do you have vending machines in your country?
Most of you probably know you can buy beverages, ice cream and cigarettes from a vending machine without having to go to a store. These days, you can purchase hot meals like instant noodles, hot dogs, takoyaki, even local goods, and so on.
Well, how do you buy things at a vending machine?
1. Insert coins, banknotes, or tap your IC on a machine. * You cannot use a banknote bigger than 1,000 yen.
2. Push the button or number of your selection,
3. Your item comes out.
4. Don't forget your change!
It's very easy. Let's try using several vending machines when you come to Japan.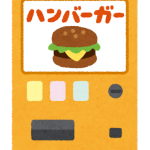 click↓