Hello, everyone. Are you familiar with Hanami? As you might have heard, many Japanese people enjoy viewing the blossoms of cherry trees. They eat, drink and appreciated the beauty of cherry blossoms.
In Fukuoka Prefecture where NILS is located, cherry blossoms are typically in full bloom around the end of March.
Today, let me tell you a few choice spots to view cherry blossoms.
(1) Maizuru Park (Site of Fukuoka Castle)
Maizuru Park is located in Chuo-ku, Fukuoka City, on the site of Fukuoka Castle which was built by a warlord named Kuroda Kanbei. It takes about an hour to get there with train and subway from Ogori where NILS is located. The best time to view cherry blossoms is at the end of March. You can see about 1,000 Someiyoshino and Shidare-zakura trees. Ohori Park, located right by Maizuru Park, is also a great spot. If you have a chance to go downtown Fukuoka, please plan a visit to those spots.
Maizuru Park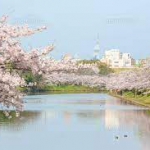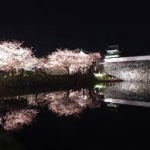 (2) Dazaifu Tenmangu (Dazaifu Shrine) and Nakajima Shrine
Nakajima Shrine is located inside the property of Dazaifu Tenmangu. It takes only 30 minutes to get there from Ogori. Dazaifu historically served as a political center to protect Japan from foreign countries during the Nara Period (710-794). Dazaifu Tenmangu is known to help patrons to pass entrance examinations, etc. Cherry trees in Nakajima Shrine are not numerous, but the surrounding architecture and the cherry trees are in such harmony that they give such a sense of awe to visitors. There are a number of souvenir and snack shops along the path to Dazaifu Tenmangu for you to enjoy as well. It's also very close to Ogori.
Dazaifu Tenmangu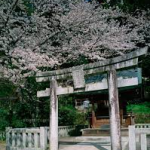 (3) Sakura no Baba in Matsuzaki, Ogori City
The last but not the least spot is Sakura no Baba in Matsuzaki, Ogori City. It's also close to NILS. Just take a train on Amagi Railway, get off at Matsuzaki Station, and walk about 10 minutes. You can enjoy the cherry trees that line the street for about 300 meters. Originally, the lord of Chikugo, Toyosuke Arima, planted approximately 150 trees on the street that connects his castle to a highway. I think the view makes you feel that you have really arrived in Japan.
Sakura no Baba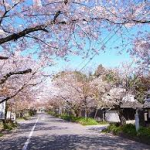 I hope this information is useful. See you next time.