Hello, everyone. Only two weeks left in December. How was your 2021?
Christmas and New Year's Eve are two main events remaining this month. Today, I would like to describe Christmas traditions in Japan.
What happens in December?
The whole city (urban centers anyway) is illuminated. In Fukuoka, Hakata Station is well known for the extensive decorations including a huge Christmas tree and lights.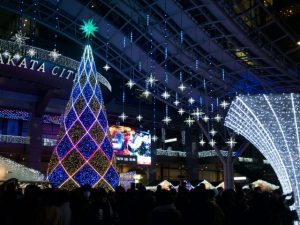 Around the tree is a holiday market where you can purchase knick-knacks and seasonal beverages like hot wine and hot chocolate. You can also eat turkey or cheese.
How do people spend Christmas Day?
Young people typically spend Christmas with their friends or significant others. They rarely spend Christmas with their families, but young children are usually with their parents. Most older generations don't really pay much attention to Christmas. Christmas in Japan is often celebrated on the 24th instead of the 25th. The reason isn't clear, but we think it's because of the media.
For Christmas, it's become a tradition—probably due to corporate influence–for people to eat fried chicken like KFC and strawberry sponge cake.
Children receive Christmas gifts on the morning of the 25th. Families typically give one gift for each child as a "reward" for good behavior for the year.
How do you celebrate Christmas in your country? Let us know your traditions. When you come to Japan, please enjoy the Christmas holiday activities the Japanese way.
Have a great holiday season.
For further information about NILS and NILS Annex, click below!