Hello, everyone. It's already September! Today, I would like to introduce a type of food Japanese people eat in September. Have you seen or tried this food on the photo?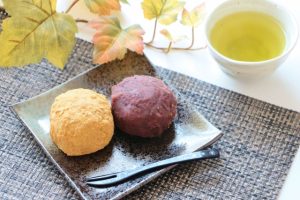 This is called "Ohagi". Ohagi is a type of sweets wrapped around with slightly crushed sweet beans (Anko) or soy bean flour. People offer Ohagi to their ancestors and eat it on the day of "Ohigan" . They also visit the family graves on this day, and it happens once in the spring and another in the fall. Ohagi is also called "Botamochi" which looks and tastes exactly like Ohagi.
 Then, what's the difference? One eats Ohagi in the fall because a fall flower called Hagi blossoms in the fall. Botamochi is eaten in the spring because a flower named Botan blossoms in the spring.
In addition, red beans used to be harvested in the fall. As a result, Anko for Ohagi can be cooked in whole (including the skin) whereas one would need to remove the hard skin for Botamochi. Red beans cooked with the skin is called Tsubuan, and the type without the skin is called Koshian.
 People are often divided between Tsubuan and Koshian loyalists.
You might not have had a chance to eat Anko. If you like Anko, I'm sure you will love Ohagi as well.
I hope you will have a chance to eat it!