I had been to many parks and gardens, but so far, I have yet to experience having Matcha (Japanese green tea) in a garden. It is great that NILS had arranged a trip to Yusentei Park, a Chisen Kaiyu styled Japanese Garden in Fukuoka City, on 21 Oct. 2015.
We were fascinated by the huge size of the Koi (carp) when feeding them at the Shoinzukuri style pond. They were so close to us that we could even touch them.
There is a beautiful waterfall which enriches the pond, and also a nice spot for photo taking.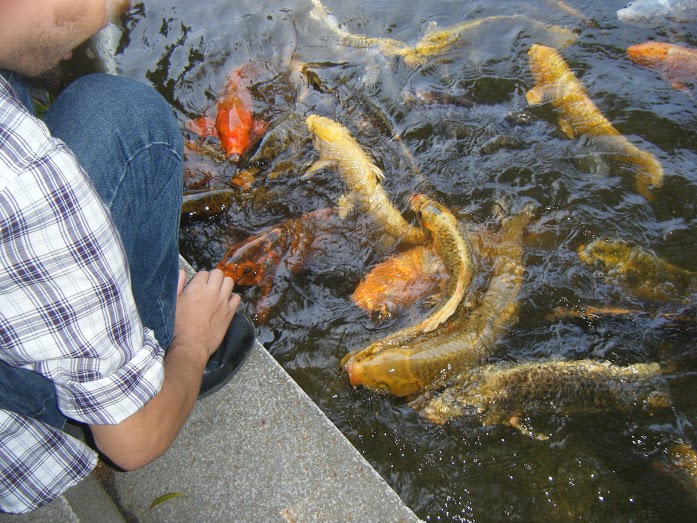 We moved on to the Ohiroma Hall, a 29msq (17.5 tatami mats) room facing the pond, to have our Matcha and Wagashi (Japanese confectionery). Sensei went through some basic etiquette on the tea ceremony with us before we enjoyed the Matcha and Wagashi. The Matcha was bitter but with the sweet taste of the Wagashi, it harmonized and balanced the taste… 美味しいですね。。。
After the Matcha, we lingered around the Ohiroma Hall, to enjoy the scenery and also photo taking. The water is so clear that we can see the koi swimming around clearly…
The scenery is really great and with the matcha and wagashi, it really calms one's mind.
A very nice experience though but it is a pity that the leaves have yet to change colour, I believe it will definitely add more points to it.