This week's trip was to Furusatokan and the Kushida-Jinja.
The museum showcases life and culture of Hakata, mainly of the Meiji and Taisho eras. It was interesting to see how life in hakata used to be. We then watched a fifteen minute video on an upcoming festival that was also going to be one of our field trips. After the museum we went next door where they had multiple looms for making Obi.
The climax of the trip was supposed to be us attempting to use the loom. For me, it felt completely lack-luster. The lady taught us how to use the machine, and we each got to use the loom for about 1 minute each. I found it more interesting to watch a professional work on her own complicated loom, than use the simple loom myself.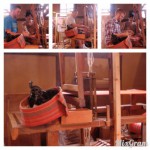 After browsing the gift shop, we went across the street to Kushida-Jinja. By this point, I've been to four shrines in the Fukuoka region; so if the shrine doesn't have anything to separate it from other shrine. We were at the shrine for probably 10 minutes, and then we left. Overall, the trip was fun.