Greeting from CEO, NILS
Each one of you who are eager to learn Japanese in Japan has your own purpose. We always try our best to provide the best learning circumstance for you.
We are always keeping in mind instructions to pull out your motivation through a good teaching appropriate to each student's purpose, a high quality lesson, and cultural interactions at the school and in the community.
Moreover, it is one of the features of NILS that our students are multinational. Currently a lot of students from China, Nepal, the U.S., Canada, European countries, Australia, Singapore, Ghana, etc. are learning Japanese at NILS.
We hope they will not only learn the Japanese language but they will also understand each other's culture and traditions and improve their communication skills.
We earnestly hope excellent talented people from NILS will connect the world to Japan through the Japanese language.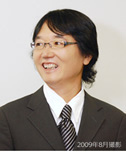 Toshiyuki Sato
CEO
NILS Japanese Language school